There is little left for the from my sons! What I do? If this great day is coming and you are worried about the decoration and the details of this great day, do not stress today in 2.0 decoration we give you some suggestions to decorate so fast and economical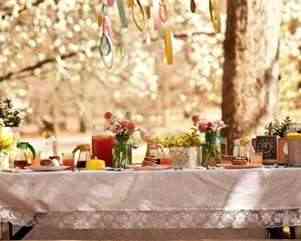 Imagination and creativity they will be indispensable, the secret lies in the details of bright colors and cheerful tones. Normally, we usually have articles and conventional decoration in mind. But we forget the originality so to avoid headaches, here are some suggestions.
Decorate the party with colored cards it will bring life and joy to the party. With the cards we can make articles and give them fun shapes. We will place them in strategic places to get the best result.
For example, we can cut small strips of cardboard, of different colors. Then we will put them on a thin cord, we will join them and place them, as if they were cadenetas or a mobile on the table of the cake and the food. Combine the colors.
Now we will cut small pieces of cardboard, by way of labels, and we will put them on the jars and some plates indicating what they contain, so the little ones will know that they will take it in a very colorful way.
Podemos place helium balloons In strategic places of the party, we can hold them so that they rise without escaping. In the strings, of the balloons, we will put cardboard cut out in the form of fringes, in this way they will be much more attractive.
Find out what your favorite characters are and draw them on the cards, then you just have to cut them out and place them where you want.
Finally we can do some Origami figures and make chains or locate them where we like the most.
As you can see with few resources we can make a great children's decoration. Creativity will be indispensable.