Good morning friends, today in Decoration 2.0 we will talk about ideas for decorate our basements. If you have a basement and you want to remodel it, repaint, new furniture, new styles ... today we leave you some suggestions that you will surely love.
All those who have a basement know that they are usually places that we must condition, otherwise, they seem cold, dark, rather wet places.
But all basements do not have to be this way, in this way today we leave you some ideas so that you have them in accounts. The need for another space in the house, is increasingly noticeable .. in this way we look for places to set up a small gym, a small room for games, leisure .. or a place to work ..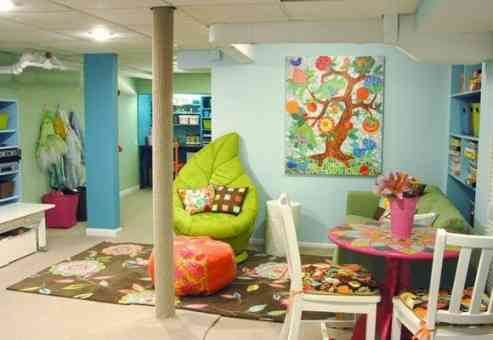 Whatever it is, we must take it into account to condition the basement one way or another. For example basements usually have low light, so the ideal is to find a good source .. if it can not be natural .. we can always help with lamps distributed throughout the place.
A general lamp and other stand, bedside or appliqué .. look for focal points where the darkness is total ... in addition specific points, if you have a desk and you need to work on it, as a crystal lamp.
If you decide to set up a gym in this place, take into account the amount of space we have, the number of machines we have and how ventilated the place is.
We remind you that basements tend to have low ceilings, so the ideal is to look for light colors to make it bigger .. anyway if your basement is large and is well lit, we will not have as many problems with color.
Fill your space with bright and fresh colors, add the furniture and accessories that we see according to the style we want to achieve and thinking about what the stay will be.
Think that practically everything will be in function of what you need the space for, although it is to pass the time, for some activity in particular, if it is leisure, to do gymnastics, like another room or another room, a small laboratory. .
It is essential to know the functionality of the place, to act accordingly .. we can also create multipurpose spaces .. you decide!