When the upholstery of armchairs, sofas, armchairs, stools or the comfortable poufs is spoil over time it is not necessary to throw them away ... not even buy new ones. It just has not occurred to you upholster them or take them upholstery to give them a new look?
When we go to upholstering a piece of furniture, by the way, is an interesting option renew some items that we have around him as cushions, blankets, curtains or bedspreads.
For select the fabrics We usually have the odd problem of indecision ...There are so many possibilities! That's why virtual decorators do a great job for us. They advise us and help in the choice on the most suitable upholstery for our decoration.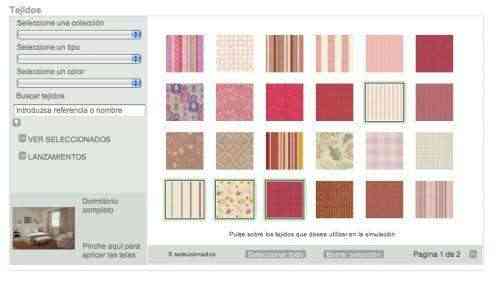 Now it is possible know how that pattern will look on the sofa or an oriental fabric in the armchair. Combinations and multitude of colors will guide us in the most appropriate choice.
This application Virtual is free and we can find it by clicking here. On the page will appear the type of furniture you want to upholster; in the rooms you can only choose room or bedroom. The next thing will be to select the type of fabrics, it is best to select many and click on the object to see them big.
The furniture, in particular, should be displayed at medium size and above will come the type of fabrics that previously we have chosen. With just clicking on the furniture It will change of pattern and color.
There is a Long list of colors and patterns. Although our furniture and the stay is not exactly the same, think that we can make a combination with a tapestry similar to the one you can possess and the new one you want to place. Curious, is not it? Check out.
For more information you can check the web www.ka-international.com where you will find the virtual decorator.