Decorate with boxes is more fashionable than ever and this is a trend that I love because boxesThey bring a special charm to the decoration and because it is available to everyone.
If you buy some shoes, a makeup kit, any appliance, do not throw away the box! With a little time and very little money you can turn it into a decorative element not only aesthetic, but also very functional.
The socks, the stockings, the gloves, the chargers for the mobile phones, the cards ... it's over that having everything chaotically messy in a big drawer. From now on, a box for everything.
Search at home, maybe you have a saved box that you can take advantage of.
If you do not have, ask for them, normally the cardboard boxes are something that we just throw away. Sure your mother, your sister or your friend have a box at home and are happy to "get rid of them".
And to convert those shoe boxes or any other product into a decorative element original you have two options:
If you are a handyman look for a printed paper or a fabric that you like and that combines with your decoration and, covers your box.
If the crafts are not your strong point, do not worry, for you there is also a solution. Run to any craft store, to a hardware store or to the Chinese and get yourself a can of spray paint. It's as simple as covering the box with the paint. In addition, you will find it in all colors.
Then, if you wish, using a template you can add some 0 stamped drawing.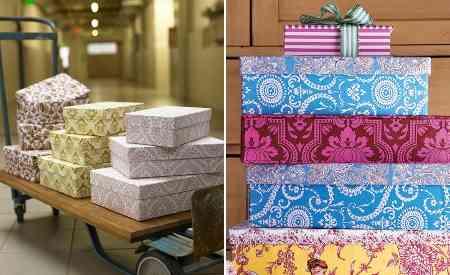 A simple and very economical project that offers you as an result an original and attractive decorative element ... what are you waiting for? decorate your boxes?