The decoration, based on balloons, is a resource widely used in events such as birthdays, christenings and the like. In this way today we show you a video with a nice suggestion to make at the baptism of your little one, a funny centerpiece made from balloons.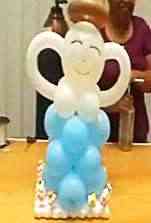 The materials that should be used are not very complicated to achieve. These will be white and light blue balloons -or those that you like the most- a piece of fibrofácil, a piece of paper and a ribbon of paper for a gift.
As we have said before, this center is quite versatile so it supports the colors that we like the most ... it plays with multiple tones if the center is for a birthday party and, if it is for christening, in two colors it is quite elegant.
If you are interested and want to see the video step by step, you only have to click on the link!