The decoration of children's spaces is always a complex task but imagine that instead of decorating for a child we must do it for a dozen of them, and that these will also be defined in different genres, tastes and they will require a motivating space, no doubt the proposal is complex, so we will stop at some tips or basic characteristics to achieve a classroom or Children's space conducive to the care and recreation of children.
Dimensions, dimensions are really important, small they must have enough space to develop games and activities in a reasonable manner, in case of not having it, we will have to bet on furniture solutions to save space, as long as they contemplate children's activities in a safe way.
The coverings and pavements are really transcendent, in the latter we recommend opting for plasticised floors, these are economical, aesthetically beautiful and very simple sanitize what we will achieve with a steam vacuum, which is great if we do not want children to come into contact with the classic chemical products, the coverings can be varied but we recommend PVC panels that hide cables safely or allow painting and prevent the child from suffering damages in a possible blow.
The ideal furnishings are those of softwood or plastic polymers, with a height especially suited to avoid the classic blows in recreational activities, a bouncy castle or a space with containment nets and pillows is great as well as a shelf that allows children to relate to space on a daily basis.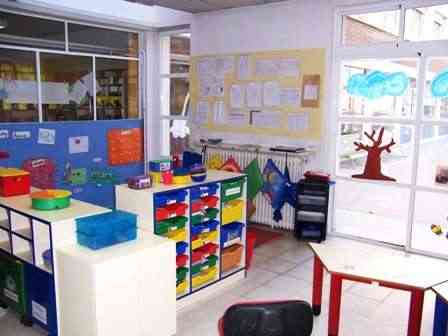 The space can have the classic numerical forms in cushions or chairs always looking to familiarize the child with the shapes, colors like violet encourage creativity as well as red physical activity completely subconscious
The electrical cables and all that plausible element of accident must be contemplated, safety sockets luminaires of high altitude, preferably in lightweight garments such as paper or cardboard are a good alternative.