The simplest materials, the most everyday, can often become perfect elements to decorate. Ingenuity is necessary and through the network we can find so many ideas, so many projects, so many examples that can inspire us ....
Today's post is dedicated to one of these ingenious and original ideas that anyone can put into practice. An idea with great decorative power and very easy to carry out, as well as economic. I say economic because you will only need some tubes of toilet paper.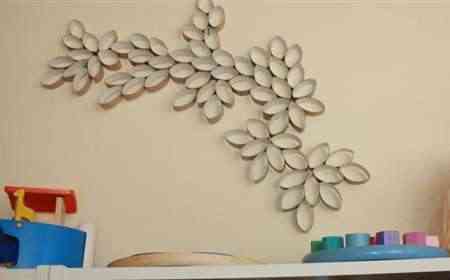 It involves decorating the wall with tubes or rolls of toilet paper. Too easy.
The materials that you will need are the following:
Toilet paper tubes
Scissors
Glue
Painting (in case you decide to paint it in a color that matches your decoration).
These are the steps you must follow to turn the toilet paper tubes into a beautiful decorative element for your wall.
Crush the tubes forming a kind of petal.
Cut the toilet paper tubes in 5 parts approx.
With the glue, stick the tubes forming a design that you like. For its petal shape the most usual is to form a drawing with floral motif. Although, the imagination is free and tastes too ... The design is left to your free choice.
If you want you can paint the tubes with any color that matches your decoration.
Once the glue and paint (if you have decided to paint it) is dry, your design will be ready to be hung on the wall. It will be like putting a decorative vinyl in relief ...
If you like the idea, what are you waiting for? Let's do it!