Opting for a "floating" sofa when decorating, that is, placed in the middle of the room instead of against the wall, helps create a particular atmosphere, with a lot of style and originality.
Despite being an idea with many advantages, you will also find an inconvenience ... The truth is that the back of the sofa is usually not too interesting and if we do not know how to take advantage, which in principle is a good option could end up bringing only coldness and Vacuum sensation.
In this post we show you some ideas to avoid this inconvenience and that finally the result is not only decorative, but also useful.
If you put a narrow table against the back of the sofa and add some decorative elements on it, the result can be perfect. Also, it occurs to me that, for example, when you have guests, you can use the table to serve the buffet or cocktail.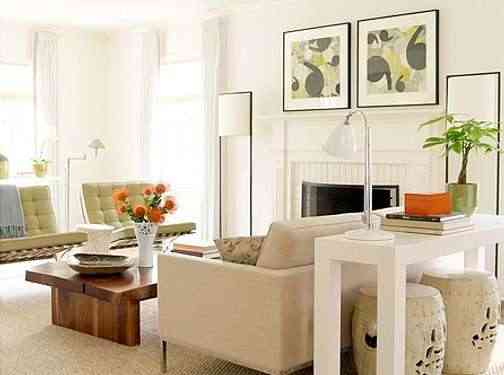 If you do not have a space reserved for study, work or reading, with this idea you can kill two birds with one stone. A narrow table and a chair will be enough to create your work corner while "camouflaging" the back of the sofa.
If your space is limited and you are not allowed to place a table, you can add a smaller element. Some flowers or tall branches in the center of the sofa would be ideal, since in addition to providing color, they create a very interesting visual impact.
Or if you prefer, you can play with symmetry and color. To do this you can put behind the sofa a chest of drawers and distribute the objects with which you will decorate creating a symmetry. The result will not only be harmonious, but you will also get a visual sense of depth.