RecycleFortunately, it is becoming more common. And as far as decoration is concerned, it is increasingly fashionable to put ingenuity and imagination into practice to create furniture, decorative elements and original and different spaces.
Today I am going to talk about recycling and the reuse of wooden boxes. Yes, of those old boxes that practically we do not stop to look at or those that every day in the markets of all the cities or towns end up in the garbage container.
Here are some ideas on how to recycle wooden boxes in style to adapt them to the decoration of your home.
The first example that I will give you is this practice and informal ledge made entirely with recycled wooden boxes.
To form the shelf they have been fastened to the wall and to give it more stability some of the boxes have been joined together by screwing them. As for the distribution of the boxes, relamente has not followed an order, although perhaps it is that feeling of capricious placement which gives it so much charm.
Another option is to contribute for a somewhat smaller project. Of course, just as charming and original.
The perfect example is this little shelf that has been created expressly for the bathroom. As you can see, besides being highly decorative and contributing to a warmer environment, it is perfect as a storage space for some towels, boxes, etc.
In this case, it has been decided to dye the boxes with Judea bitumen. If you like this idea you can do the same or apply the paint that best suits your decoration.
Here you have a more colorful version of what could be a perfect library.
The exterior of the boxes has been dyed with Judea bitumen and bright colors have been chosen for the interior. This could be an ideal alternative, for example, for the room of the smallest of the house.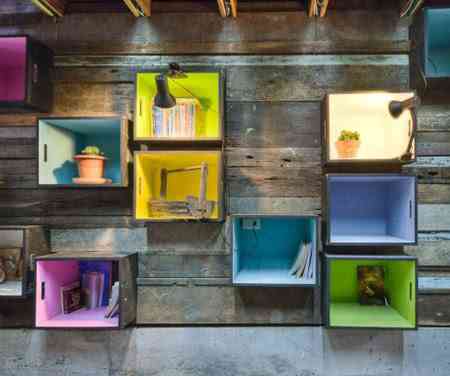 The best bet to use boxes to decorate a corner of our home is that it is a very economical alternative and you can adapt to any space and type of decoration.