We can try many ideas to decorate originals and practices. When we think that a single detail can turn an environment into something modern, perhaps we also think that this detail must be very elaborate or very expensive. Today we are going to throw away that idea, because we bring you a great idea about how to decorate with pictures on the floor, leaving aside the traditional custom of placing them on the wall. I like it, you will like it.
At home we always have small spaces such as corridors and others, in which we can create a unique and attractive decorative environment, of course we do not have much space and we do not want to set up a complete environment but rather give an attractive touch to an environment that does not seem so so much. With this idea to decorate with pictures on the floor, we can take advantage of some of those great paintings that we keep in the storage room because we think we can not take advantage of them.
And that's not so, we can take that big and pretty picture and place it against the wall just supported and on the floor, in such a way that it looks great and we can add it for a relaxed and modern effect, a large flowerpot or perhaps a chair, or a small modern bookcase with books and magazines, is not it true that it looks beautiful? you also create a space where you can place a chair if you want to take advantage of reading the newspaper every day or enjoy your book.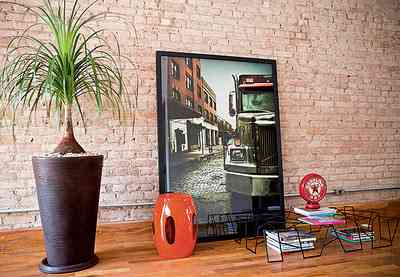 It is not complicated, it is so easy that it is a pity not to take advantage of it to improve the appearance of the house, and you know that you can always customize any idea, adding details of what we like personally, changing colors, textures or sizes and making of an original idea even more original with our creativity, so girls, hands-on work that today we have here an easy and attractive idea.