With his presence and at first, it seemed to be a trend sea of ​​showy, but also with the days numbered. But the truth is that with the passage of time and establishing itself as a decorative resource that seems to have come to stay, decorating with geometric figures has become a practice that in a greater or lesser way, practically all of us have thought of putting into practice in our home decoration. So if you have thought about welcoming him but you still do not know very well how or at what scale, you can not lose sight of today's reading. And is that the most subtle modification to the most apparent, find yours will be guaranteed.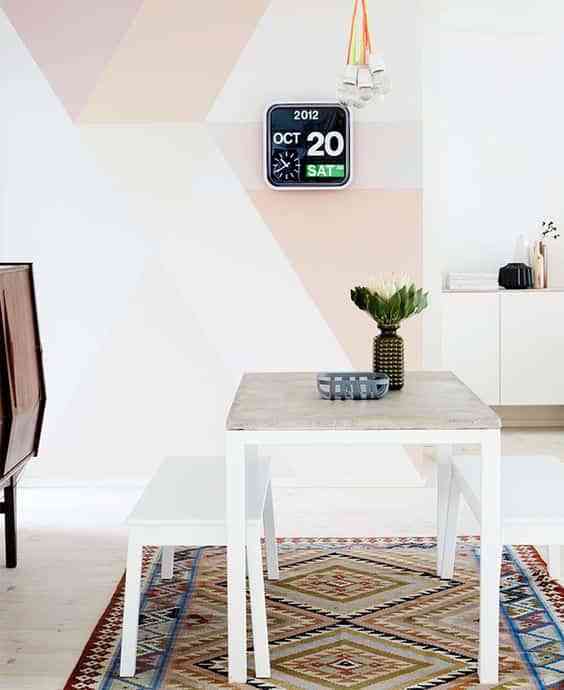 Give them shape directly on your walls
Give new life to your walls by encouraging you to decorate with geometric shapes that you shape yourself, it will be an idea that may surprise you very pleasantly. Puas, colorful handles, individual hangers or any other decorative element that is capable of drilling or even sticking directly on the wall, it will serve as vertex for your particular geometric figures. Elastic rubber, decorative cord, trapillo or simple rope will help you start up the perimeter of your creation.
On broad carpets
If you prefer the modifications in your house decoration of simple and quick «remove and put», elements such as textiles in the form of wide and fluffy carpets or striking and original curtains will do for her more than you can imagine. A more or less congested design will be the same decisive way to turn your spaces into rooms of greater or lesser peace depending also on the space with which you count on them.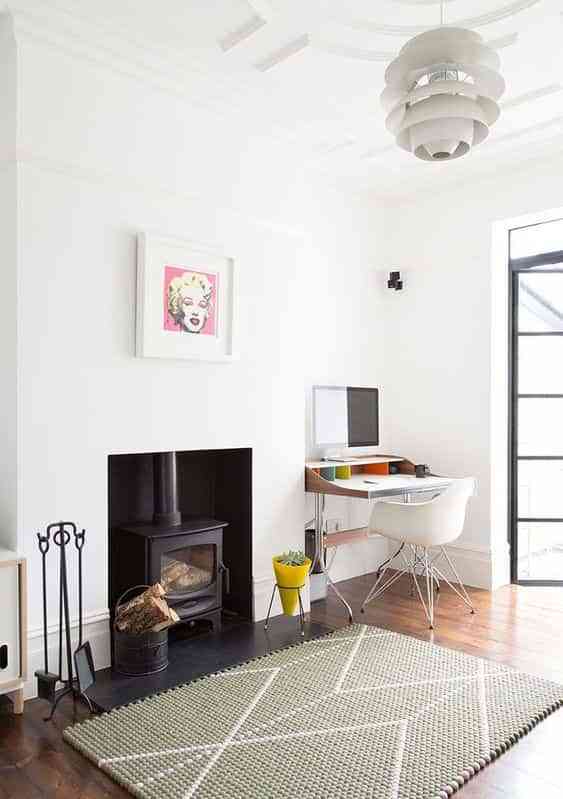 Decorate with geometric figures in coatings
Taking advantage of the change of coverings to decorate with geometric figures through the new incorporation, will be similarly an idea as apparent as original. Pieces in rectangle and placed in a very different way than expected, hexagons, squares of greater or smaller size depending on the aspect you want to give. Joints of the same color as the pieces, or of the completely opposite tone to print an extra touch of character ...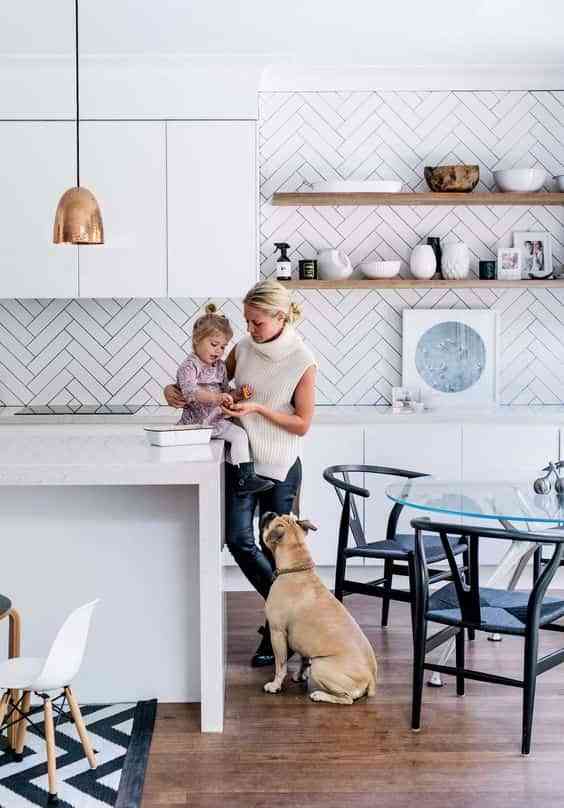 Through wall compositions
Decorate with canvases and frames While giving shape to your particular mural compositions, it will be another way to give the geometric touch to the decoration of the house. Placed at different height and distance from each other, using different colors and shapes when choosing the framing, more or less separated depending on the space and natural light with which you count in the stay ...
With paint on your walls
If we think how to decorate the walls with geometric motifs, at first this idea may be the one that runs through your head. And is that Bodybuilder's tape and the paint of the color or colors that you want to incorporate, will be everything you need to bring out the artist that you have inside. Choose the combination that suits the decoration of the room in question and the mess with it!
While you divide spaces
The divisions of spaces, whether by metal or wood and materialized on the basis of cuarterones, will be a bet as original, different and the latest as the most advanced of them all. You can adapt them to any decorative style simply by changing the material to make them. And to gain in spatial and visual sensation, will be the clear advantage that they present before any other method of division of stays.
With decorative shelves
You will find them in the market in a thousand shapes, sizes, colors and materials. The compositions with several of them, whether they are the same or different, will give your walls a visual interest that is very different from the image you used to start from. If you are addicted to DIY, you will enjoy making them yourself at the same time. A joy twice!
Customize your interior carpentry
In barn type sliding doors, in the envelope of one of your tables or anywhere where you want to see this effect of the most colorful and handmade of the forms, decorate with geometric figures by plating your surfaces it will be in the same way an idea as visual as it is great.
Geometry at your table
In a special dinner, as a center for celebrations or maybe even as a way to incorporate a very original base plate, the geometric figures can contribute to your decoration that different dot that you may be looking for.
As you can see, decorating with geometric figures can admit as many variants as there are styles to choose from to take this practice to your home. Bet on the one that suits you best and do not forget to try it at home!