The scariest party of the year is just around the corner. It's time to go looking for some simple ideas to decorate the house on Halloween and get a most terrifying environment. Here you have 5 projects to do yourself that can not be simpler. Take note!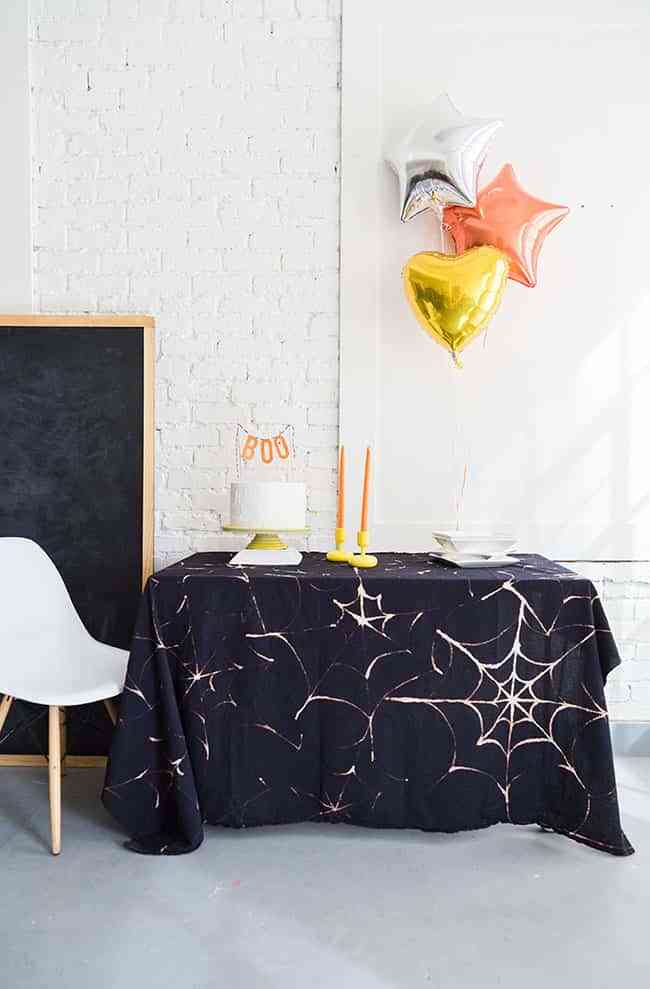 A few DIY ideas very easy to make, simple materials that we can find at home and want to have fun. That's all you'll need this year to decorate the house on Halloween. You dare?
To help you we have looked for some details that help you to give to your living room (and also to the hall) A terrifying but also fun. You will like them especially if you have thought celebrate a Halloween party at home for children or adults. Your guests will have their hair standing on end!
How to decorate the house on Halloween: ideas for the table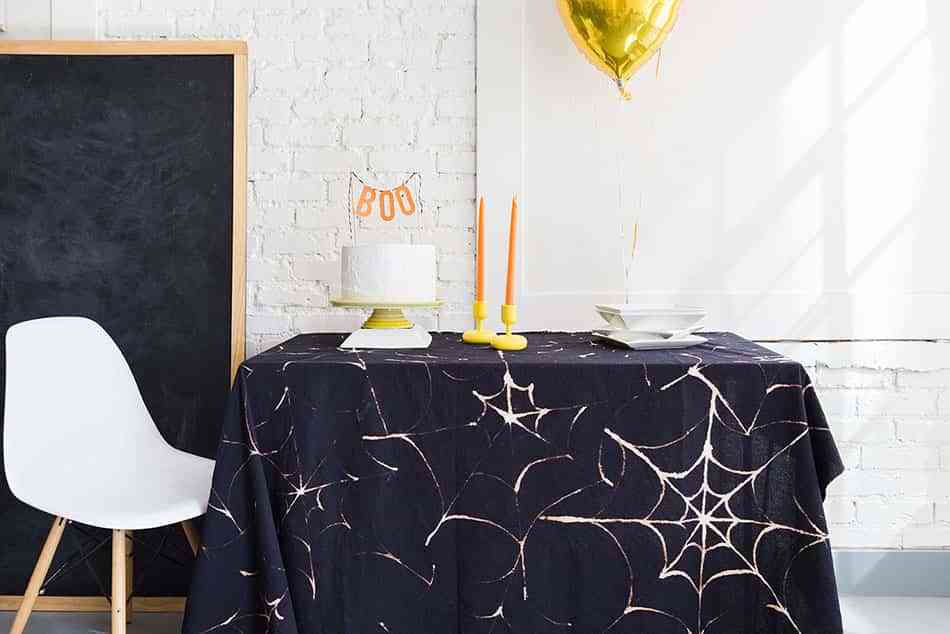 If you are thinking about throwing a party on the night of terror, you will surely cook some of the richest and darkest recipes you can think of. Well, here are a few great suggestions for Decorate the Halloween table.
Let's start with the tablecloth. To achieve the most terrifying effect, we must take care of all the details. Here you have a special way of getting hold of a black tablecloth printed with a spider's web design.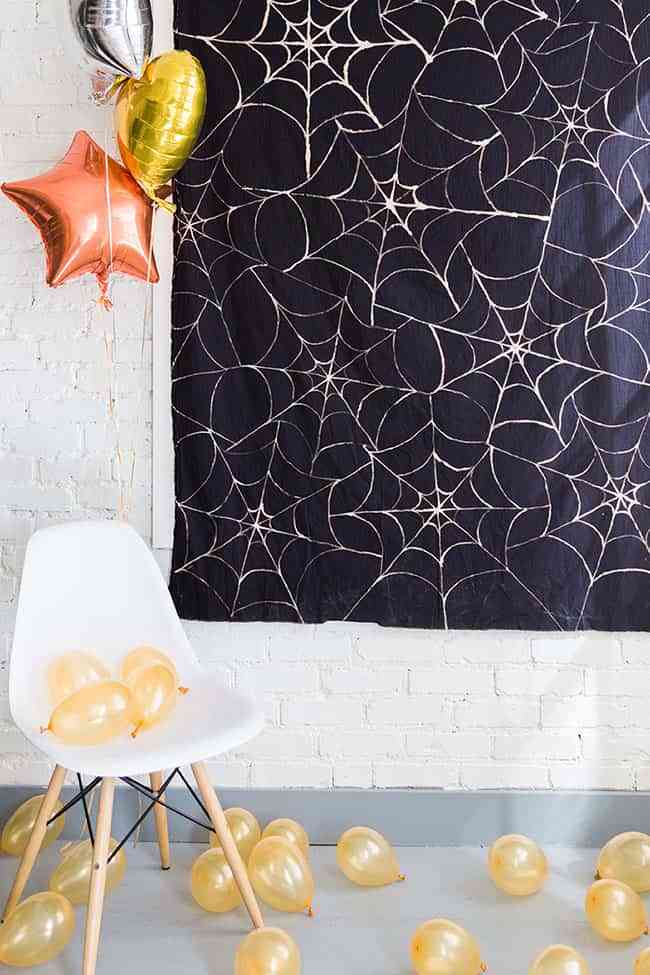 To do so, you only have to buy a black cloth and draw on it the cobwebs with a chalk. Then you have to spread the fabric on a surface protected with a plastic. Soak a cotton swab in bleach and follow the chalk lines of the drawings. The bleach will leave those strokes without color.
It is best to start at the center of the tablecloth and continue towards the ends. Do it carefully so that the bleach does not spread too much. Wait a few minutes and then rinse the fabric well with water and wash it afterwards. You have your ready Halloween tablecloth!
Light up the table with a witch's broom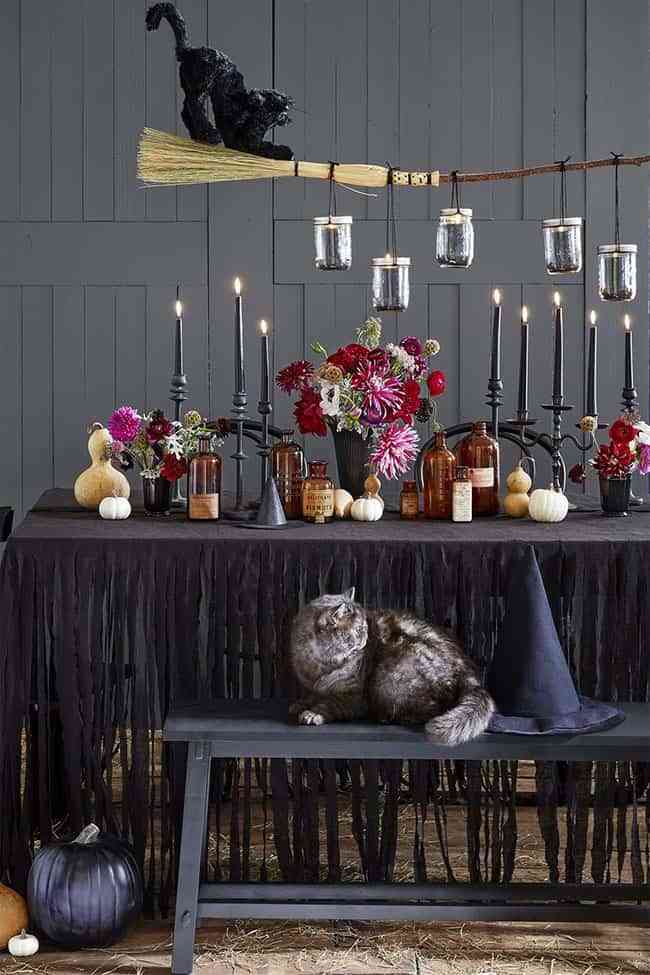 This DIY idea has seemed very decorative to me. And, in addition, it is very simple to put into practice. In fact, the biggest complication is find a nice witch's broom made with heather or with raffia and with a stick.
If you already have it, the rest is simple. Look for some small candlesticks or some little glass jars and attach them to the broom with black string. Then put inside each jar a black candle I would look for small led lamps that work with batteries. In general, they offer much more security than candles.
Finally, hang the broom on the table, suspending it from the ceiling with invisible nylon threads. Cool!
A spooky welcome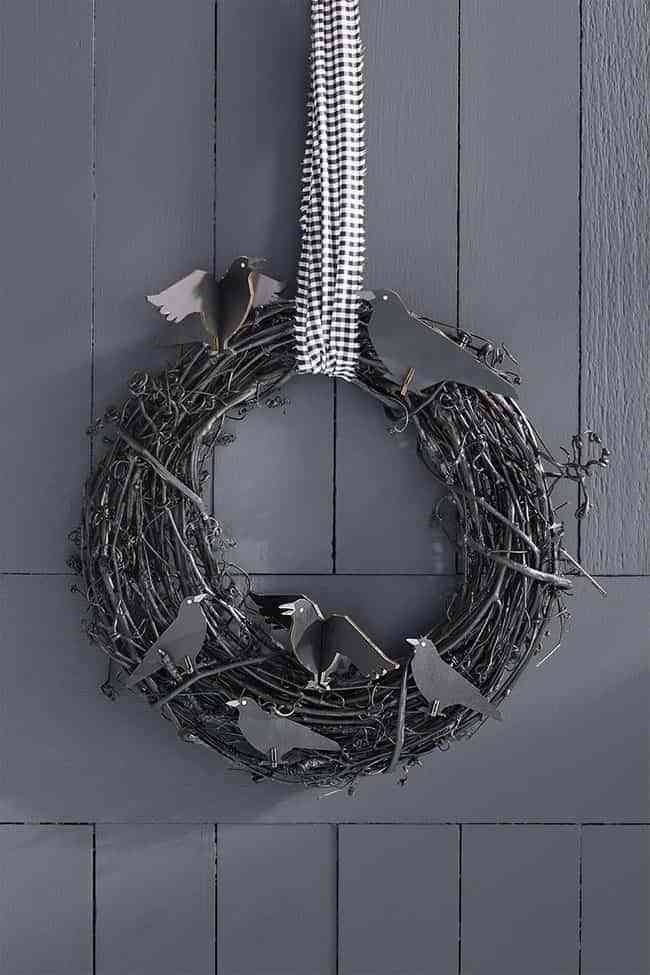 Decorate the entrance door with a special crown It is an imported custom, but very special. I love resorting to these crowns to decorate the house on Halloween and give a special welcome to the guests, if you expect visitors.
And if at Christmas they wear tinsel, mistletoe and holly, Halloween wreaths They also have their special reasons. Like this decorated crown with disturbing crows ...
If you decide to do it yourself right away you will realize how easy it is. Look for a wreath of vine branches or any other type, as long as they are dry branches, without leaves. Paint it black with spray paint. Then paste a few crows cut out in black cardboard and place a tape to hang it from the door. In this case we have chosen one of black and white squares.
Decorative center with bats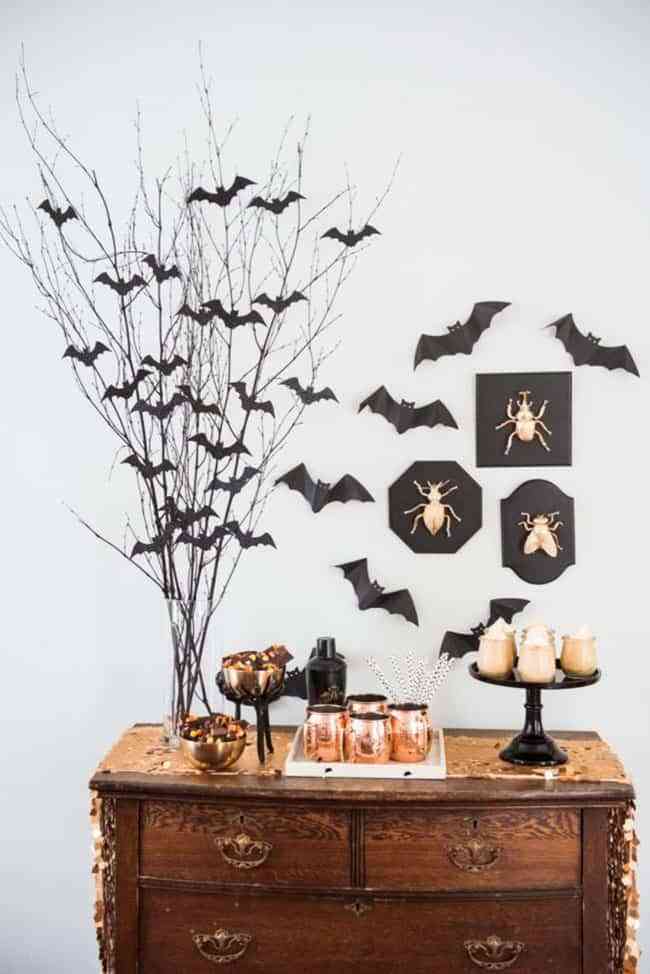 Halloween brings us a few motives and special designs with which we can decorate our spaces, the same the living room as the entrance or the garden. It's about skulls, Spiders, crows, witches, black cats, bats ...
Precisely the bats are chosen to create this decorative center that
It can not be easier to do. Search a few dry branches in one of your walks in the park and place them in a glass vase.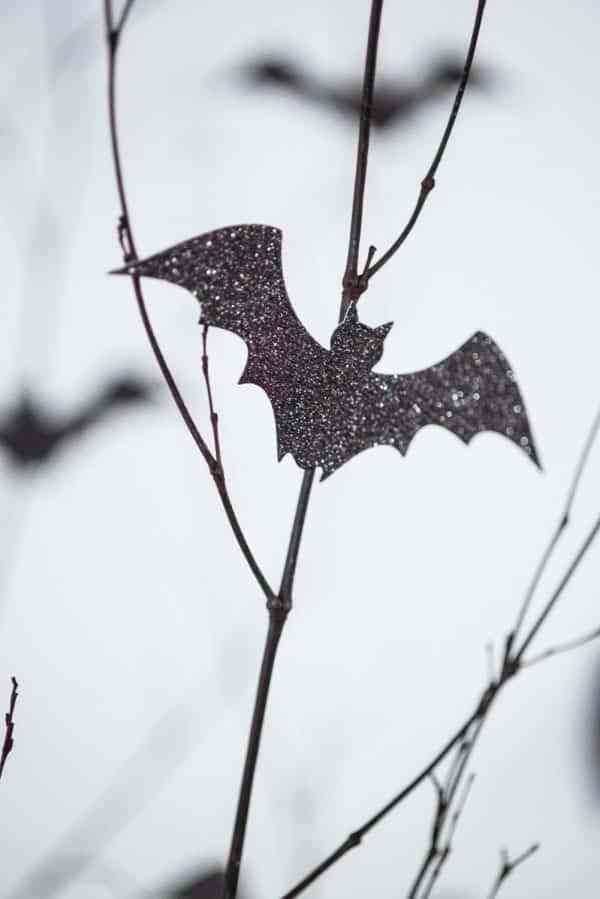 Then cut the silhouette of the bats on black rubber eva. Choose a shiny finish to give a special touch to the set. Stick the bats with a silicone gun and ... you've got it!
Skull XXL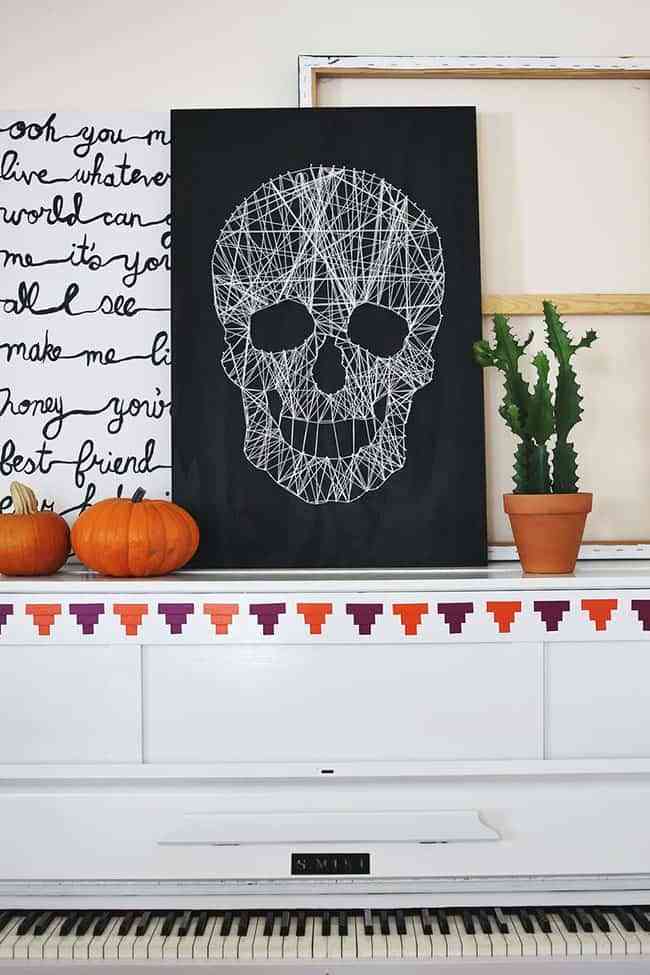 The last idea that I bring to you today is really original. Is about make a picture with skull design using nails and string on a large wooden board. Begin by painting the board, applying two coats of black paint if necessary.
Once the paint is dry, place a template of paper with the drawing of the skull on the table. See driving small nails with heads in all the outline of the skull. Remove the template and tie the white string on one of the nails. Go creating the drawing with the string, taking care that it is well tense.
Any of these ideas will help you decorate the house on Halloween. They will not take much time, you will have them ready in a moment and they will put that festive and terrifying note that you are looking for. Booooooo!