Do you need ideas to plan the decoration of the table for these holidays? Are you tired of the usual crockery, of the party tablecloths of all the years? Here are some keys for create a rustic Christmas table and succeed spectacularly.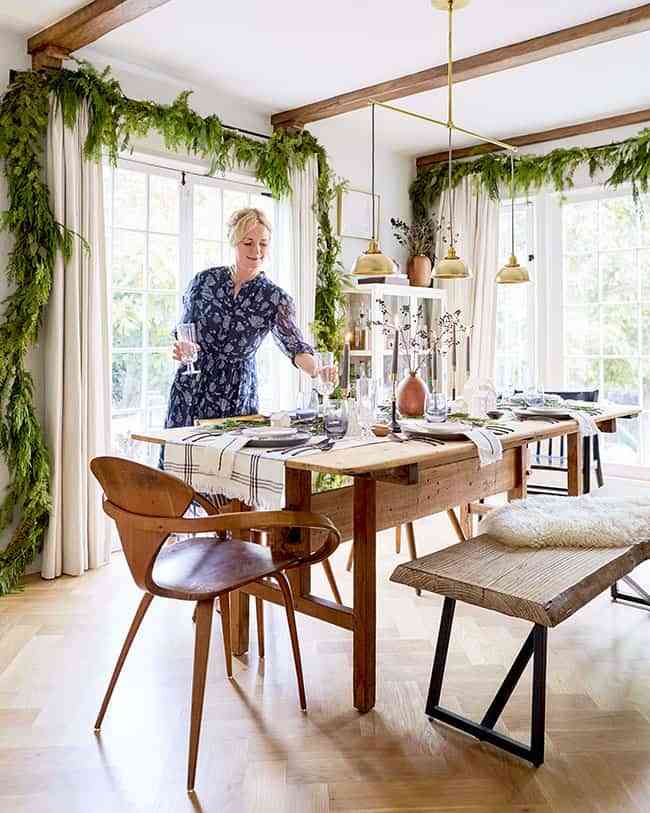 If decoration is a priority for you, or even if it is only an important chapter in your life, you will surely dedicate time and effort to Create a Christmas atmosphere in your home. And that extends to more than one aspect. Since put the tree until the decoration of the living room. Today we give you some interesting guidelines to decorate a rustic Christmas table.
And is that if the country style It's your favorite, you'll love the ideas we bring you today. Because, although they can be applied to tables of any style, they are specially designed for rustic options. They will shine, especially in Celebration tables arranged in country houses. Do you want to know what these keys consist of?
How is the perfect rustic Christmas table?
This is the first thing we have to think before we start planning how are we going to decorate the table and what elements we will need. To begin with, it must be clear that this type of decorations are more suitable for country homes and rustic environments.
The objective will be to create a very special table: natural, warm, simple. The important thing is to get it without breaking our heads too much, without spending a lot of money and without the project becoming a problem.
The table: choose raw wood
To create a rustic Christmas table, choosing furniture is important. It is clear that we are not going to change the dining table if we have one, but if we can choose, this element is important for the final result.
A Rustic, sturdy and solid wood table Is the best option. With a rough finish, of washed wood. If you have one like that, do not hesitate to use it. Accompany it with wooden benches, Very practical if your family is large, since they are perfect to welcome many guests. To make them more comfortable, you can place on them a small leather carpet (imitation) or cushions.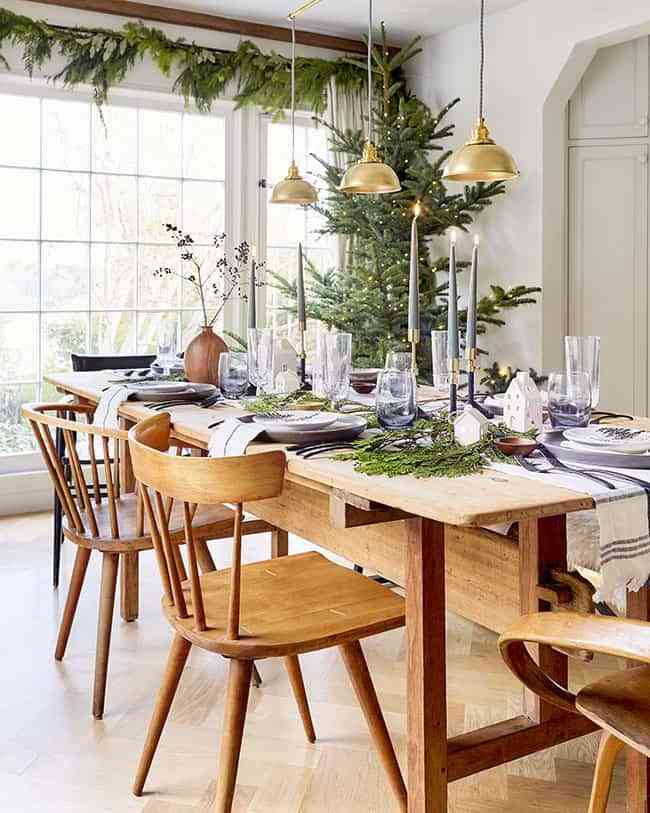 As for the chairs, which are made of wood and country style. Do not worry if you have to Mix more than one model. For my taste, this adds dynamism and interest to the table.
A palette of neutral colors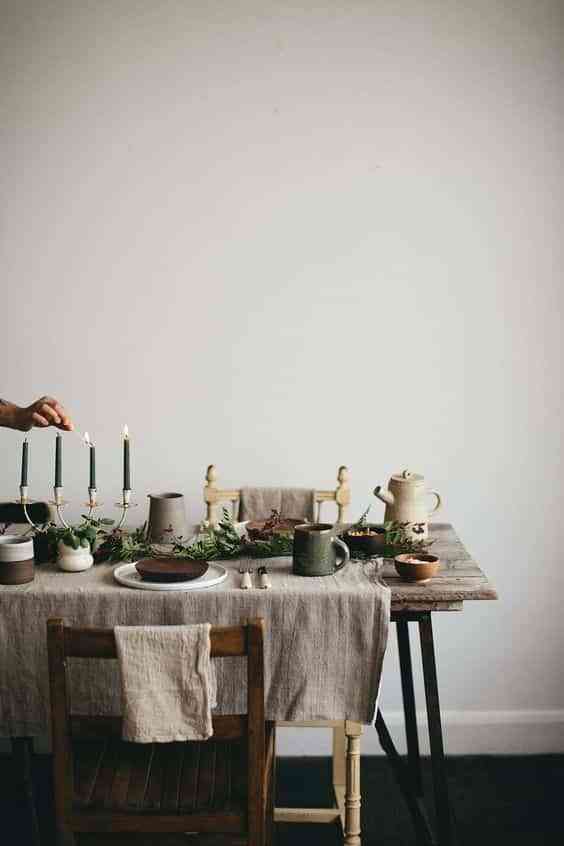 It will be the perfect starting point to create such a special rustic Christmas table. The neutral tones They are infallible for this type of festive decorations. In addition, they have a lasting effect and can be used all year round. Therefore, if you buy something for the occasion, you can always give it many more uses in the future.
Light tablecloths, neutral tableware, elements of sober and elegant colors are also perfect for rustic tables. Choose the cream, the ivory, the combinations in black and white, the grays, the wood tones, the copper or the golds used with restraint, green, etc. With this color palette you can compose a rustic Christmas table but also modern and elegant.
Bet on the mix: simplicity and refinement
This is one of the keys that will be most interesting when decorating your party table. Choose natural and simple elements, everyday, and mix them later with other more elegant and refined accessories it will be the key to success.
Earthenware and ceramic ware and linen napkins will combine wonderfully with delicate pieces of glassware. The stylized and elegant chandeliers will go very well in this table next to very natural vegetable touches, a little wild. You will love the result of these contrasts.
And it is precisely this Mix of different elements what brings charm and originality to the final set, which will be festive and special as it should be a Christmas table.
Paths of table, the best option
If until this year you had always dressed your table with the elegant tablecloth of special events, maybe you should think a little and bet on another idea this year.
A rustic Christmas table, of pretty raw wood, does not deserve to be hidden under a large tablecloth. On the contrary, what really seems appropriate is to choose a natural table runner, of linen for example, that let see the wood of the table. Another appropriate idea will be to opt for placemats.
Create a party atmosphere with candles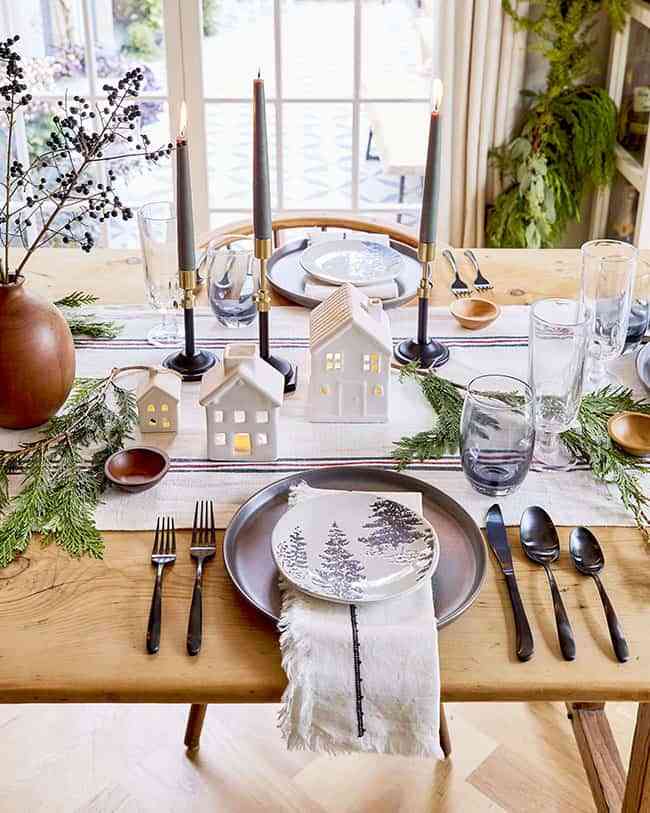 If we talk about creating a special, festive atmosphere, candles are an essential element. Especially at Christmas. Candles bring light and shine to the table. They are very important to create an environment.
You can choose elegant tall chandeliers, with some details in gold. Try not to disturb or hinder communication between diners. And complement them with candle holders in which to put small candles.
With these keys you will be able to create a rustic, comfortable, cozy and very cozy rustic Christmas table. The best scenario for a celebration of the most special. Enjoy it!