No space at home to have a receiver elegant and spacious, we do not have to deprive ourselves of the benefit of keeping in order what we always have to have on hand to get out, you know the bag, the hat, the children's hats, the coats of the whole family, the umbrella all! and therefore, today suggestions for those who do not have enough space. We can still have our little hall at home.
You only have to have a small place behind the door, where to put some basic details to organize what we have already said, it is necessary to maintain order because reduced in space, this is a way that the decor work better, and everything looks more attractive. Our suggestion to create a hall at home, takes advantage of the color of the wall, the white you already know, visually widens the environment, so do not forget to take advantage of it.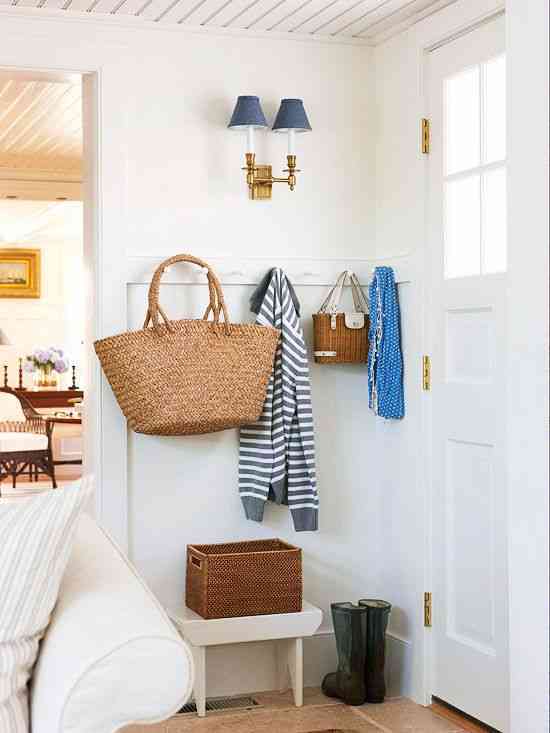 In addition to taking advantage of the blank environment, we will place a shelf, this is the most practical and cheapest way to also allocate a space where we can hang the bag, the sweater and everything you want to have it on hand. A small piece of furniture, maybe a bench or a small table that adapts to the space with a small basket to place small things that we can not hang, maybe it comes well, street shoes, or boots when we enter the house. We can always assign a space to that effect where to put the boots during the winter season.
Is not it true that this receiver looks beautiful? Although it has little space and only very basic details, the result is attractive and practical. Which leads us to confirm that we do not need to have a huge house to enjoy everything we need and like. So let's get down to work that you too will have a hallway at home to your liking.
Image: Decoration In