Decorating a house is a very important expense that often we can not afford. Due to the weight of this reason, there are many people who decide to leave the house just like that, especially when it comes to renting houses.
The truth is that this decision in the vast majority of cases, if not all is totally negative because the house is a place where we spend many hours and its decoration and setting greatly influences our moods, motivations, etc. .
I advise you that regardless of where you live and its characteristics, you "mold" your tastes and needs and provide details that reflect your own personality. It will help you to feel much more comfortable in your own home and be more comfortable.
It is true that with money this task would result much simpler, but not having enough money is not an excuse. There are many tricks to decorate saving without sacrificing good taste and style in decoration.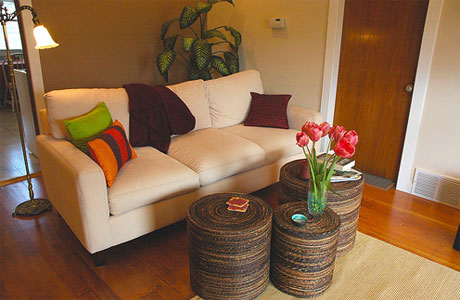 Today we are going to show you some of those simple details that are able to completely modify a space and turn it into a pleasant environment.
The color of the walls. Undoubtedly, the walls and their colors are one of the most striking elements in a room or stay. Decide which colors best suit your personality and apply them to your walls. If you do not want to invest too much money in paintings, just paint one or two walls.

If you prefer, instead of resorting to painting you can resort to wallpaper or even a decorative vinyl.
You will see the change that you will give to any space just with any of these three options.
Change furniture is not available to everyone. However, try to change the location of the furniture, the result can be simply great.
It occurs to me that if for example you have a chair, a stool or a small armchair that is only taking up space in the living room or dining room, you can move it to the bathroom, there it will be much more useful and your room will be more spacious.
The small details always makes the stay much more pleasant, so do not forget them.
A vase with natural flowers, some vintage element, mirrors, lamps, paintings, etc.

Another way to modify the decoration and give it a personal touch by investing very little money is to resort to the decorative textile elements: curtains, quilts, napkins, tablecloths, cushions, pillows ...
Combine colors and patterns to your liking and taking into account the rest of the decoration. You will be delighted with the result.