We have already spoken on another occasion, about the importance of making the most of all the environments of the house, at the time of decorate. We do not always take advantage of the one that remains exactly under the stairs, with what we miss to create an environment or more extensive or more complete. Today we give you ideas on how to decorate with a living room under the stairs, creating a relaxing environment in that space that sometimes is not so big, but that well used works great.
As a fundamental detail to achieve a functional and attractive decoration under the stairs, it is that the space must be painted white. This is basic, since it is a place not very illuminated and reduced, white gives it amplitude and clarity, in addition we already know that white is good for decoration in any environment, and in this one decorating a living room under the stairs, It is especially important because it creates a very attractive environment that you can customize to the fullest.
In the images that we give you, you will find inspiration for decorate under the stairs, with colorful furniture that balances the total use of white, the placement of ornaments such as paintings should be used to enhance the decor but you must avoid exceeding, because otherwise the atmosphere becomes overloaded, and of course always have to consider carpet, cushions and other charming details that make the living room even more pleasant.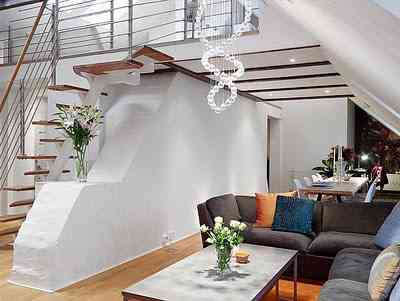 This lounge under the stairs, it can become either the place where family members read or rest, such as a family room in addition to the main room, if you have a lot of space at home, but otherwise, it is the ideal way to have a small room in a room. place where there is not too much space for it, and of course the house will always look beautiful.