Decorate Any house depends a lot on the personality of the person who will live in it. Each of us has different tastes of colors, furniture, lamps, textiles and all the accessories and details that we include within the decoration.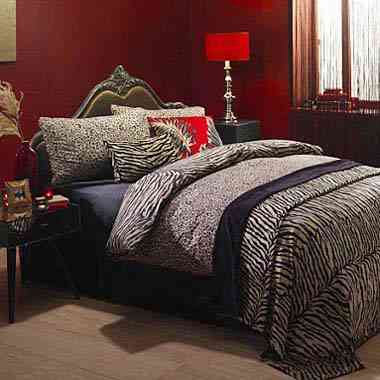 In addition to this, there is also the influence of the fashions and trends of each season. These trends mark the passage to new accessories to include in each decoration .. these additives are taking center stage in the rooms such as the living room, the bathroom, the bedroom ... living ... etc.
A great tendency, within the decoration, is to look for solutions in the animal print. This means beautiful prints, simulating the skins of animals, which serve as an option to play with all kinds of big and small details.
We can use the animal print in any room of our home. Textiles with a beautiful African touch, which exerts a certain fascination and transmits strength and power ... we can use animal print in some textiles of our home ... such as in carpets, in chairs ... in cushions..etc.
This beautiful style is perfect for elegant, distinguished and luxurious environments. A good advice is not to overdo putting too many textiles in this way, because we run the risk of saturating the look, inside your home.
Currently this trend is also used in furniture and all kinds of decorative items such as pillows, quilts, blankets, towels and even headboards .. we will also find many upholstered furniture as chairs or armchairs.
Within Animal Print we can select the type of skin that we like the most. These skins will be simulations of the skin of the crocodile, the snake, a zebra, the leopard, vacja, giraffe, panther ... and many more versions. In addition we will find them in different colors, even in graduated or blurred tones.
Finally, we recommend this trend in modern and minimalist environments, keep in mind the color and the combination with the rest of your decoration!