We have finally reached one of the most anticipated days of the year! Today in Decoration 2.0 we teach you to make a beautiful craft, fast and simple for the laggards!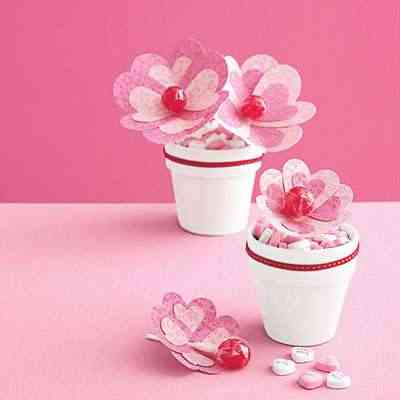 To celebrate the love and friendship, This craft is ideal. We can place it as a centerpiece. Besides being very colorful, it will look great as a decoration.
This beautiful candy pot we can do it in just a few steps and a few minutes, so you know, this pot may be the detail that was missing in your decoration.
The materials what we will need are:
- Two colors cardboard
- A flower pot
- A ribbon
- Glue
- Sweets or chocolates
- Something to pierce
the first step will be make the flower, for this we take the cardboard and we cut the hearts in two sizes different One bigger and one smaller; we will make four hearts of each size.
Now we stick hearts by couples of large and small. We join them with the help of glue, in the form of a flower. Now with something sharp we made a small perforation right in the center of the flower. This will serve us for introduce the chupachups, if it can be in eye color.
Now it only remains Fill the chosen pot, with sweets and chocolates. Finally we will put the flower of cardboard.
The flowerpot we can buy it in colors or decorate it ourselves. We could also cover it with a fabric that we like ... here your imagination comes into play.
Happy Valentine, friends