For these holidays, for those who come or for sure, today we are going to decorate the coffee. The technique of stenciling or also called stencil is well known; as we already know is that technique that uses a template, with a drawing, to apply paint and thus transfer the drawing wherever we want.
As we are the most "retailers", today in Decoration 2.0 we want to propose the decoration of the "cafelillo" after lunch, or in the morning ... or when you decide.
To show how much we love our partner, so that our children have fun or to amaze our vivistas this Christmas we can leave messages in the cafe.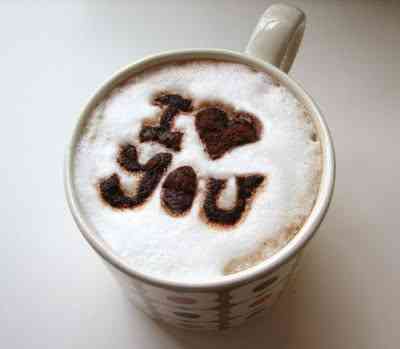 The technique is very simple we just have to cut a piece of acetate or get the typical plastic cap. We will place it above the cup where we will serve the coffee and we will indicate the diameter.
Inside the indicated circle we will apply, with a permanent (permanent marker), the drawing or message that we want to transfer to the liquid.
In this image we see how the words I love you have been outlined. We can draw what we want, then it will be enough to cut with the help of a cutter the inside of the letters or drawing .... And we already have our mold!
Now we will take the template, put it on top of the coffee and with cocoa or cinnamon sprinkle over the mold ... see how they look? Precious truth ?? And above all simply decorative. With this technique we can also decorate cakes, pies, pancakes ... almost everything we want.