If you have some trunks, stored for a long time or cornered and unused, here are some good proposals that you can apply. In this way, you will greet some great accessories for the home. Myself, at home, I have a good trunk to store the heavier things like blankets and some coats.
But the trunks not only serve to keep things that take up a lot, they also serve perfectly to decorate. Do not corniche these beautiful furniture, rather make them look in a nice place in the room. You can make yourself, if you do not have any, with trunks in thrift stores or maybe buy a new one.
I particularly love those that are engraved on the wood itself. They give a rustic touch, if that is what you intend .. although they are also quite versatile in spaces with another type of style. If you like vintage decoration, of course a trunk can not miss.
In addition to the function they have, the trunks can be placed as coffee tables. Of course, those that have a more rounded finish, are not the most suitable to put any cup .. but you can always add a surface that you like, on it.
They serve as an auxiliary table, at a certain moment .. if you put a lamp in the door, it will be magnificent. Trunks can be placed in almost any part of your home, for example in the bedroom. If you place one at the foot of the bed, it will give a spectacular decorative touch and, also, you can store cushions, blankets and other things.
If you have outdoor spaces or a terrace, you can make it part of the whole, it will be very beautiful. Other ideas such as putting them in the entrance of your house or in the living room, will give prominence to them. One tip that I give you is to fix the trunk, even if you want to apply a paint of a color that you like, you can do it!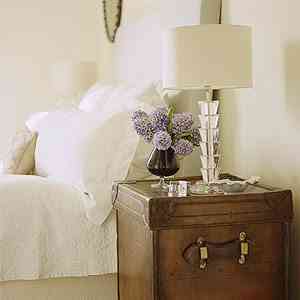 photo: interiorholic