Do you want to decorate the chairs on Halloween? We tell you two ideas that will leave your mouth open to children and adults. We explain step by step, how to make ghost chairs in Halloween.
Halloween is just around the corner, there are only a few days left and, although traditionally it is not a Spanish or European festival, we celebrate it here more and more. Actually it is an Anglo-Saxon festival but we have adopted it for a long time and every time has more presence in the nights of the 31 of October. If you are one of those who are going to celebrate, be it because your friends have prepared a party or because the little one of the house has invited his family, today we are going to show you how to decorate ghostly chairs on this terrifying day. With them and with some of the tips that we have already given you for create a scary environment at homeI'm sure you'll become the best hostess in the district.
How to make ghostly chairs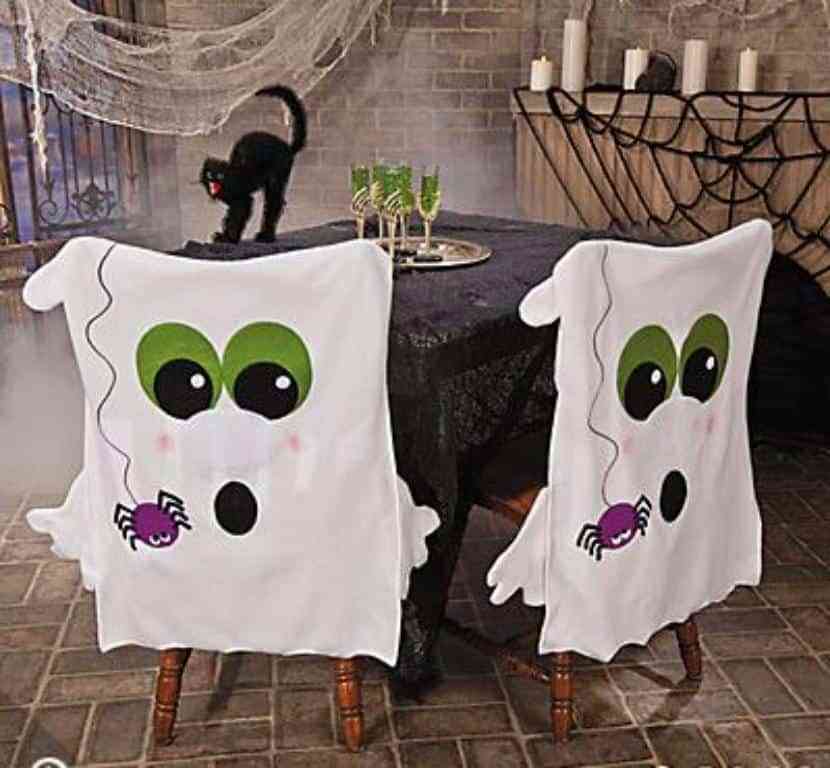 We started with the simplest idea: dress up the ghost chairs. How? We explain it to you You will need to:
A pillow case
black cloth
Scissors
Glue for fabrics or silicone
The step-by-step process
The first thing to do is cut two large ovals of black fabric for the eyes. You can make them in the shape and size that you like. The bigger and less uniform the better. Remember that it is a ghost, so you do not have to be perfect and beautiful.
Once cut, what you have to do is stick them on the pillowcase, on the side that is not open. That is, close to the seam on the narrowest side. Glue them at a distance of one foot from the seam down. Let them dry well, whether you have done with silicone or if it is permanent glue.
Once it's dry, open the side seams of the cover up and insert it into the backrest of the chair. Remember that the eyes should be facing outwards, that is to say in the part where the back is not going to be supported.
Funny ghost chairs
If you are little hands and you have time for Halloween decoration we suggest you imitate the ghostly chairs that you see in the photograph. They are something (a little) more complex than the previous ones that we have explained, but the result is worth it. You will only need a little more fabric and one more color for the eyes. Here for example, you will need not only two black circles for the eyes, but two black and two green circles to superimpose both, of different sizes and create a more sympathetic and real ghost. For the mouth it is enough with black cardboard and for the final touch, hands made of white cloth and stuffed with a little cotton. Add some blushes and a personal touch and now yes yes, they will be unique chairs for halloween.
Halloween chairs: pumpkin, ghost and vampire
For those who are a little more clueless, here we leave a video tutorial. In it, they explain, step by step, how to vary the idea of ​​ghostly chairs. And is that, following the same technique, You can create nice characters like these. First, a smiling pumpkin. Second, an astonished ghost. And finally, our favorite, a lovely vampire. Choose the one that will please your guests or practice creating new characters and creating your own designs.
We assure you that it is not complicated at all. You will only need cloth or foam and a little bit of originality. Simple, simple and it will not take you more than one afternoon. María, creator of the youtube channel Mis Marialidades, explains how to make them Step by Step:
Hope you liked these ghostly chairs! We are looking forward to tell us how your guests stayed when they saw the decoration you had set up at home. And since we know that we are not here to throw rockets and squander our pockets, we have compiled these tips on how to save on Halloween decoration. Hope you like them!