Are you looking for decorative gifts for Mother's Day? Well do not miss the exclusive collection that Dori, one of our bloggers, has designed especially to give on this day.
When it occurred to us to launch our FLASH SALE de original gifts for Mother's Day we proposed to Dori, interior designer and blogger that she was about to launch her own online store, which will participate with her first decoration collection. What we were looking for were truly different decorative gifts for Mother's Day and we knew that we could trust their good work.
To present this first collection of Dori, whose brand and blog is From Mondays to Sundays, it has occurred to us that the best thing is for her to tell us through this interview. We hope you like them!
Deco-test
An interior designer: I fit in better with a forerunner of organic architecture, Frank Lloyd Wright.
A design object that has fascinated you: Between the use and the naturalness I am unable to choose, so ... I tell you two vouchers? W + W by Roca and the Wishbone Chair by Hans J. Wegner
Your favorite decorative style: Uff ... I think I would have a bit of everything. Functionality and natural Nordic, marked presence of elements with character and own life (or vintage, as they say now) and rounded shapes that inspire creativity and romance.
A place: The Park Güell.
A book: The young woman from the Oranges, by Jostein Gaarder.
What would you change the world ?: Everything that prevents the distribution of wealth and equal opportunities (everyone who interprets it as they wish).
And after this first test where we were able to meet Dori personally, we will see what she tells us about her first collection of decorative gifts for Mother's Day and her plans for the future:
1. From 2.0 Decoration we are delighted to be the springboard for your first design collection. Can you tell us what you have inspired when it comes to designing and designing these decorative gifts for Mother's Day?
The truth is that if something was clear from the beginning is that I wanted to give shape to products that were based on sensations. Sensations that accompany needs and moments of daily well-being.
The idea to materialize in this collection was not moved by trying to dazzle by a visually striking appearance, but rather captivate through simplicity and comfort that can awaken in us daily elements loaded with naturalness, softness and capable of bringing warmth and good vibrations to our home. But above all, to each and every one of those who are part of it.
Products based on sensations that captivate us through simplicity and comfort
2. The cushions are great, what kind of fabrics have you used and why in each product?
I was not looking for a specific material but rather a touch. I wanted to escape at all costs from the cushion that serves only to decorate. To have sensations the sea of ​​comfortable and worthy of the best of naps.
I think we have all suffered the presence of cushions in our bed or sofa that we have ruled out at the time of resting or squeezing and almost always due to the uncomfortable tissue they present. They had to be extremely nice. Those you desperately want when you want to enjoy a little bit of relaxation. And of course, at the same time, they had to be resistant to washing and daily racking, so both are 100% polyester.
I feel that combine the comfortable part with the resistant part has resulted in a product for daily enjoyment in any room of the house.
3. Bets for Spanish manufacturing, can you tell us how this is possible in these times? What is your production model?
Well ... we are talking about limited editions and small quantities, but if there is something that we have very, very clear, it is that we must promote the "Made in Spain". I live from what I love doing, but I also want the trades that help me materialize the project to do it.
What is to be earned less? That's obvious, but we all win, work and are happy to be able to live from what we like to do, what is really important.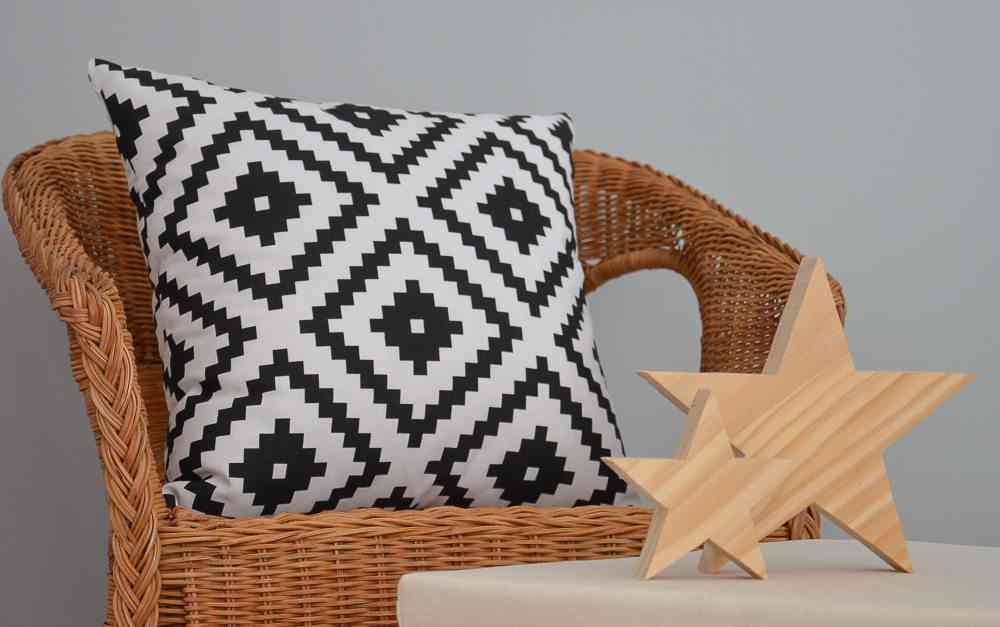 4. What decoration brands or product designers are your favorites?
If I'm honest, I'm much more lost the creations of small entrepreneurs and artisans than the big brands. Simple is great claiming the usual objects, my fellow Murcian Spread Me I love them and the initiative of Ornamant I think the sea is magical and striking.
5. How do you see yourself in the future? When do you plan to launch your own decoration store? What other products would you like to design?
Well, I hope to continue with interior reforms, making the blog grow and with the online store at full capacity But yes, a little more organized than now, so much new thing attached to the entry into the world of the 2.0 drives me crazy.
The online store will soon see the light, if the calculations fail we will have everything ready to release it with the entry of this summer of 2016.
Products that I would like to design? Buff ... there is a whole horizon to be explored and many things in mind, but I will not tell you more, that we loaded the surprise factor!
6. What would you say to our readers to convince them that your products are ideal to give on Mother's Day?
Well, they are loaded with sensations that promote daily well-being and what better way to contribute to it than through a gift?
The cup is capable of awakening the best of smiles even in the grayest day, the game of wooden stars carved by hand It brings a special comfort to any environment whether they are supported, as if they are part of a composition on the wall and its finish in natural wood presents the option to customize them at any time. As to the cushions, will become a "divine treasure" at home from the moment they are given the first cuddle. In addition to the tonalities they present, they will be easily adaptable to any room and environment, which gives them a plus of functionality.
Ultimately, Objects of daily presence that will change the mood and harmony both the person to whom we decide to give them as well as their most intimate and personal environment, their home.
We hope you enjoyed the interview, and above all, this first collection of Dori. If you want to support this entrepreneur with her first designs specially designed as decorative gifts for Mother's Day, do not hesitate to stop by our online store: FLASH SALE: Gifts for Mother's Day.