With the known technique of Decoupage We restore an old bedside table. If you have any that you no longer use, before leaving it aside or throwing it away, let's restore it! María Fernanda is the author of this original proposal.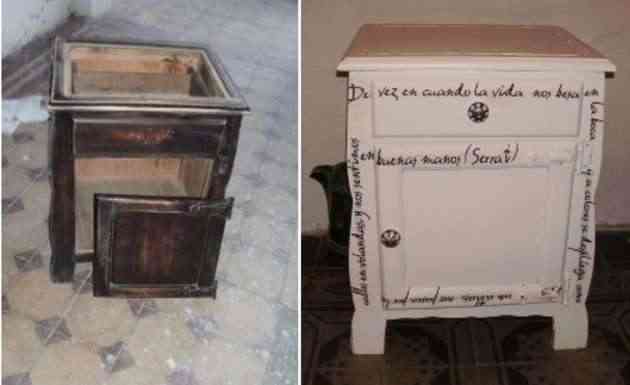 The materials what we will need will be the following:
- 1 old or semi-destroyed table
- fine grain sandpaper
- satin white enamel
- photocopy of lyrics
- vinilic glue
The first thing we are going to do is clean the table very well, help with turpentine and then let it dry well. Once this is done and to be able to paint it we are going to sand the whole table. Sand surfaces well.
Once sanded we proceed to give a layer of satin white enamel. Apply the layers you need to cover the furniture well. Remember to let dry between hand and hand.
Once dry we will decorate it with some phrases of lyrics that we like and bring memories to memory. You can do them on your computer to choose the size and type of font. Then it is enough to print it and make photocopies.
Now cut out the phrase you want to add and paste it with the help of the vinyl glue, to the furniture itself.
Pass the glue over the paper and let it dry. Finally, give a layer of transparent glaze only to the paper with the phrase and a little around where it has been stuck.