The carpeting they are one of the most visual and easy to apply when it comes to delimit spaces in the same environment.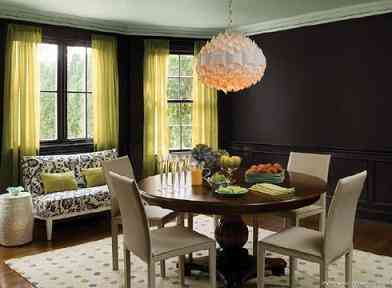 To give you an idea, in the same space or room different activities can be developed using as the only means of dividing the carpet spaces.
Following this rule is just one of the most practical, easy to apply and visual solutions. Therefore, if you face the decoration of a space in which you want to develop different activities, I propose that you consider resorting to this "norm" of separation of environments that is always effective.
A perfect example of what I say is a space that serves as living room and dining room, it is very common to find it in any type of house. In this case it is necessary to delimit in some way the dining area of ​​the lounge area in favor of the functionality and also the aesthetics.
The carpeting not only offer us great advantages visually when separating environments, but also constitute a complement that brings warmth to the decoration. On the other hand you can also convert a simple and very economical alternative that you can also change at any time, if you get tired of it you just have to remove it.
And you, what do you think ?, Do you like the idea of ​​introducing carpets as an element of separation of environments ?.
By the way, if your answer is yes but you are assaulted by doubts about the maintenance of the carpets, in this post We talk about the subject.