When Marilyn says "Diamonds are the best friends of girls" we see that this can also be applied in interior decoration
Have you already thought that in your room you can have a jewel as a lighting fixture? It seems a hypothesis reserved for the most eccentric, but the best advice is to see first and decide later.
Based on this, let's know then the collection of Innovisions in Lighting, of the brand of crystals Swarovsky that with this creation he found a new area of ​​expansion in the market and a way to surprise admirers of more sophisticated and demanding jewelery.
This new collection presents four models of lighting accessories based on the precision and detail of those who work with glass for more than a century, as is the case with the brand Swarovsky.
Let yourself be convinced by the bright light of these pure crystals:
Downsquare
This first proposal is a ceiling light without frames, very elegant, with a polished glass that reflects a crystal clear, bright and homogeneous light.
Due to its characteristics, this light is suitable for large ceilings such as hotel entrances, conference rooms, restaurants or more sophisticated bars, but the version with halogen lamps can be perfectly used in a suite in your home.
Knowing the lighting collection of Swarovsky, we perceive all the potentialities of glass, allied to the latest cutting and polishing technical innovations that the brand uses to work on such a noble, valuable and versatile raw material.
Madison
The Madison model in pyramid crystal format, is an example of how simple is many times, the guarantee of success in design. This lighting support with a minimum number of cuts is proof of that.
The square molding that we can see in the image, gives us a clear orientation of the light that is reflected in a geometric way, creating a unique atmosphere, very elegant and sensual, with a very refined aesthetic sense.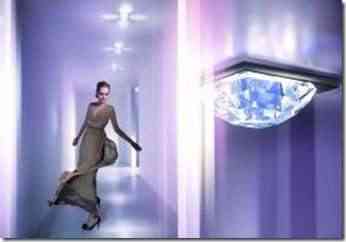 Increasingly, companies feel the need to extend their area of ​​creation, getting involved in other fields and finding, in this way, more added value for their products.
This is the case of the collection Innovisions in Lighting de Swarovsky which resolved to increase its creation area, with this collection of lighting accessories, which are also jewels and true pieces of art.
They will be very appreciated in a project of decoration and interior design more careful and sophisticated that prevails for the excellence of their materials.
The Swiss brand Swarovsky He did not want to leave out of this collection a Led lighting model, which increases the intensity of light emitted, reducing consumption and guaranteeing the durability of the lamp itself.
From there was born this version with four models (Alpha, Beta, Gamma and Delta). There are four lamps with integrated crystals of two different colors.
Crystal Bloom
The latest model in this collection, Innovisions in Lighting, is the Crystal Bloom, a suspension light in the Bouquet format.
The elegance of this proposal uses LED technology to obtain this harmonious result which shows that the beauty of crystals goes far beyond fashion accessories or simple decorative elements.
Swarovsky was born in 1895 when Daniel Swarovsky was changed to the Tyrol region in Austria with his brand new cutting and polishing machine for jewelry. This was the beginning of a brand that since then went a long way, multiplying its area of ​​expansion, now reaching the lighting and interior architecture.
Could it be that they will stop there?