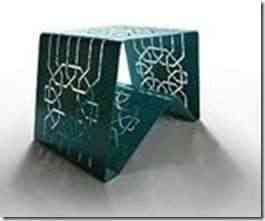 The ancestral heritage of Egyptian culture is reflected in new furniture and interior design proposals that aim to give an image of modernity and avant-garde, using old icons of a refined and mystical culture such as Egyptian.
Twenty furniture brands "made in Egypt" were associated with young national and foreign designers.
Together they bet on creating a new identity for national design based on the nobility of materials and the boldness of forms.
The brand was baptized with the name of "Kyme", which was by far the old designation of the country and that in the national language means "black land" in an allusion to the fertile margins of the Nile that annually leave a blanket of black earth in the valleys of the delta of the Nile, believing the oldest generations that fertile plantations would come from there.
The "Kyne" was presented for the first time in the West in the last edition of the International Furniture Fair in Milan. It was the scene of the I 2009 Hall that gave the world a new vision of design "Made in Egypt".