We are many of us who love beautiful embroidered napkins, with which we can decorate the table in a special evening. If you love fruit designs and like to embroider, today is the perfect opportunity to put this technique into practice.
Today we propose you to make different napkins of original designs that will bring that touch you were looking for in your table.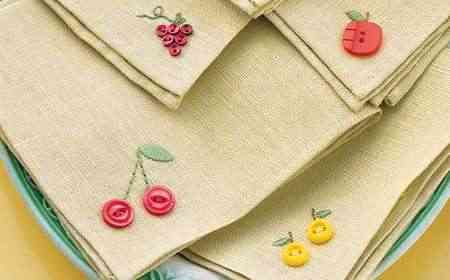 The materials What we need are:
Small cloth napkins

Colored buttons

Embroidery thread and sewing thread (in the color of the fruit you want to create)

Sewing needle

Embroidery needle

bookmark for fabric
The first thing we are going to do is to know the design of our napkin, for this we place buttons and if you want, mark the exact place with a pencil or a fabric marker. Then sew the first button using sewing thread that combines in color. Then we continue sewing the rest of buttons.
Use the marker always to mark slightly the design we are looking for, in this case delicious fruits with a touch of originality. To make the sheets we will use, in this case, an anchor stitch with straight, not inclined stitches. Remember that everyone should touch the interior, this procedure we repeat throughout the sheet and the rest of the napkins.
Think of adding different fruits such as apples, oranges, lemons, tomatoes, grapes ... etc. By adding buttons and similar you can make beautiful designs with a great touch of originality.