Generally there are many people who include an aquarium in their home; but they are usually people or family members who are fond of aquarium.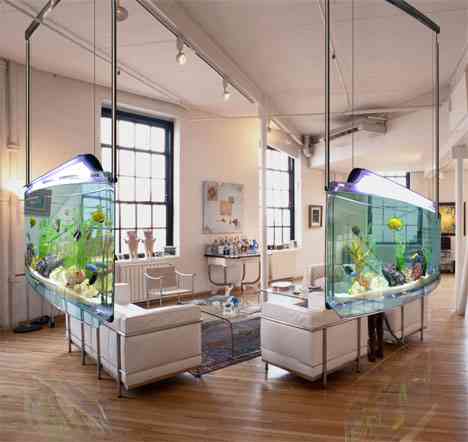 These amateurs or professionals of the subject wish to have one or several aquatic habitats at home. An aquarium will always be a gift for the eyes.
Formerly, these aquariums have been perhaps for this type of satisfaction, whether for the price they have. But nowadays, with respect to decoration, there has been a great boom in adorn with a large aquarium.
The variety of species and that vivid color are some of the characteristics that offer the best solution for quiet spaces, modern and of a style, perhaps something minimalist.
But the Aquarium ASP company goes even further. Their proposal is no longer just the decoration, they no longer only consider the aquarium as a complement to the decoration; but this company makes them the main element in the definition of any space.
Your new concept comes true with the great aquarium called Spacearium. These aquariums also have a spectacular "appearance". Its sinuous and elegant curves will make our decoration ... simply the exquisiteness in its purest state.
The beautiful curves of these pieces, have enough dimensions for Separate different environments within any stay.
The way of Spacearium It is elliptical, allowing to clearly see its interior from any point of the room.
One of their best achievements is that they need very little maintenance. They are also specially prepared to house freshwater fish and marine water fish ... Incredible right? Formerly, or when I was little ... they had to be separated, since freshwater requires another kind of care and maintenance totally different from that of seawater.
Its price is not affordable, aquariums and more of these dimensions are usually expensive pieces, since their assembly is neither simple nor cheap. I tell you that its price is 8.500 dollars, about 6.355 euros ...