This frame is decorated with magazine sheets, well rolled and glued to the structure. Recycling magazines is very simple and you have thousands of possibilities to create, decorate and manufacture. Paper is a great material to perform all kinds of crafts, as decorative, as functional.
In this case, the leaves will decorate a nice picture frame. You can also think about decorating the frame of a mirror, perhaps a clock, making a small chest, a basket or pretty paper flowers. This way of recycling paper is very simple, since you just have to roll the paper, little by little, to transform it into a small tube. The more leaf you roll, on itself, the thicker the final result will be.
The question is to cover the whole frame or part of it. To do this choose some magazine sheets, if the frame is not very large, you will not need a lot of paper. Then roll some, tight; you may need a few drops of glue so that the set does not fall apart (but do not throw too much as it could stain and stain the paper)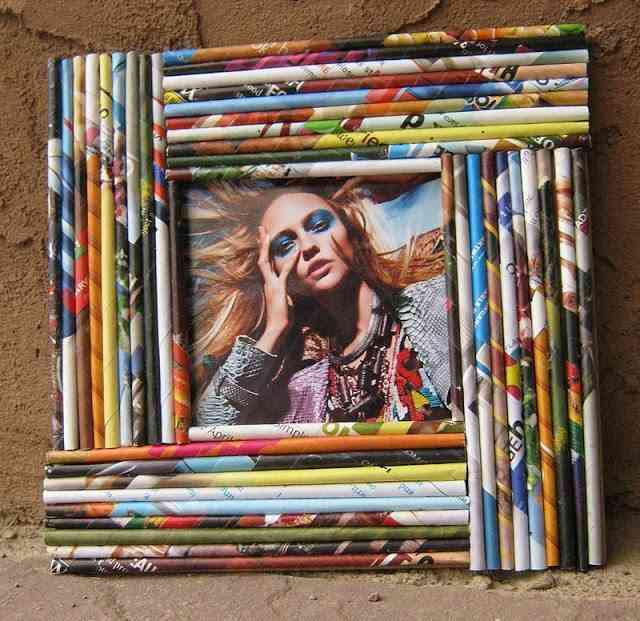 When you have made the joint, just cut it to the extent you need with the help of a pair of scissors (this can be done before or after rolling the paper) With each of the ribbons, we are upholstering the frame; it is easy, see the magazine rollers next to each other, very close together and well fixed on the structure of the frame.
Paper rolls can be pasted horizontally, vertically or diagonally; If you are creative, you can make the design that you like most, making use of the colors of the magazine itself. I also remind you that this can be done with the help of newspaper or a gift, too, in case you dare. Finally I recommend adding, once all glued, one or two layers of glue mixed with water, this will give hardness and shine to the final result.
photo: