Do you want a rustic centerpiece? Today I leave you an idea of ​​the spring, to welcome the heat. It is very easy to do and can be carried out with remnants of rope that we have at home. If you want to do this center, you just have to gather some elements like the ones I propose.
A rope, in this case is very thick .. although you can look for another size or other colors .. the truth is that it would not look bad, upholstered with leather strips or with a nice ribbon (perfect for parties) an idea, if you have left over rope of rustic style, use it for beautiful accessories like these.
We will wind the rope along a container; The container can be made of plastic or glass and the shape you want. Maybe you can use an old vase that you have saved, a glass, a can or even a bottle of soda cut. There are many possibilities that you have, when choosing a container.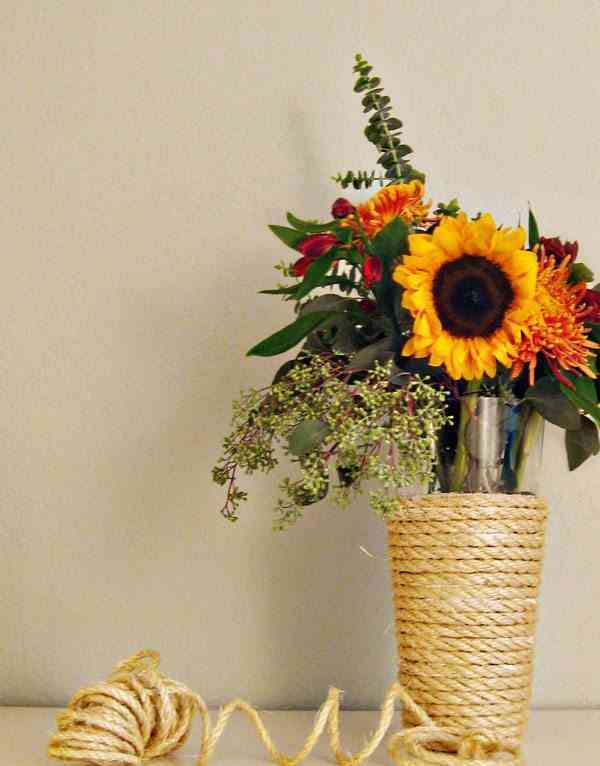 The one we see today is a glass, wide-mouthed glass (this way you can fill with a nice bouquet of flowers) When you have the container, take a piece of rope and go rolling it on itself, until you get a circle of equal as the container. To paste used glue or silicone.
We will use the carpenter's or silicone glue to fix the rope to the glass and the circle made. As you can see, you just have to roll from the bottom up, as far as you think is appropriate and ready. Then cut the string and you can add an ornament so you can not see the cut or perhaps cover the shots with a nice ribbon, although in the picture is not seen, it looks very good.
Finally add the flowers that you like most, they can be seasonal now that we are in spring. This is just an idea to recycle some rope and some container that you have at home. Do you dare?
photo: ruffledblog