How many times do we see each other? invaded by works of great geniuses of art? The charming Charles Kaisin it conquers us again with K - Bench ...
This great Belgian designer, is the creator of this ingenious ecological and sculptural work ... completely worthy of admiration, we already know where we can rest so we do not run out of breath ...
What will be will be? A structure, a work ... what is it for? TheK - Bench is, simply, a great seat! We can say that it is something like a community seat!
Its design has been based on honeycomb structure. Their magnificent gifts they take it to the similarity with it ..
The main characteristic, of K - Bench, is its enormous and great resistance and, of course, a morpho-structural adaptability Awesome. K - Bench it is a completely structure practical and functional.
This incredible seat is made with 25 Kg of propylene sheets; are stuck together reminding us, without a doubt, a kind of accordion of color.
The proposal, which Charles offers us with his formidable work of expandable seat, goes from a minimum of 16 cm to 2 meters and a half in length, in a single moment ... so, calm downnobody will be left without a seat!
Versatile and functional, K - Bench allows us to create multitude of seats and colorful benches, the images that we can see in our article are from the facilities of the Museum of Contemporary Art of Grand - Hornu, in Belgium.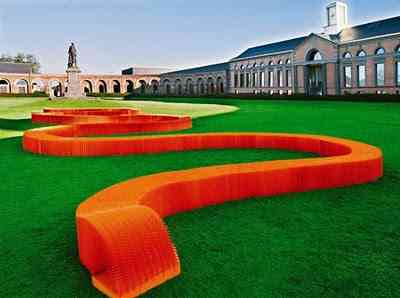 So you know if you like the contemporary art and you pass near this museum in Belgium you can not miss the opportunity to rest in this great work... no one will be left without a seat!