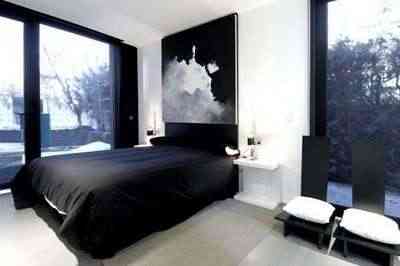 There are no more elegant colors than white and black, especially when it comes to home decoration. The contrast between these two colors undoubtedly has several advantages, in addition to a very defined aesthetic.
The advantages of decorating a bedroom in black white are obvious; You can drastically change the look of a room. For starters, it offers a very elegant aesthetic. In addition, the white color conveys the feeling of spaciousness and hygiene.
We can make many combinations between these two colors in a room, the ones that occur to us. They will never be out of tune.
For example, if a room is decorated only in white and we want to highlight the presence of some accessories, we will choose accessories in black, to create the contrast.
A tip: that the bedding is not black, because it would reduce the feeling of spaciousness offered by the bed, which will seem smaller. Also the room will not be so bright. For the same reason, neither the curtains nor the walls should be black, unless you look for a Gothic style.
You can also use the color black for small cabinets and even cabinets. Although if you decide to put a black wardrobe, put it in the last corner of the room.