The beds are pieces in which you should not skimp, your comfort and decorative highlight, a large part of the conformation of our bedroom is revealed, that is why a large number of provisions among them the so-called canopy beds.
The canopies beyond fulfilling an aesthetic function began to be used for a sanitary provision, avoiding insects attack those who rested, thus preventing the spread of diseases, since ancient Egypt were used and manufactured with these motives, although its greatest highlight is achieved during the Victorian era where artists had his creativity adapting the canopies as decorative pieces, which far from falling to the detriment of the piece were its subtle highlight.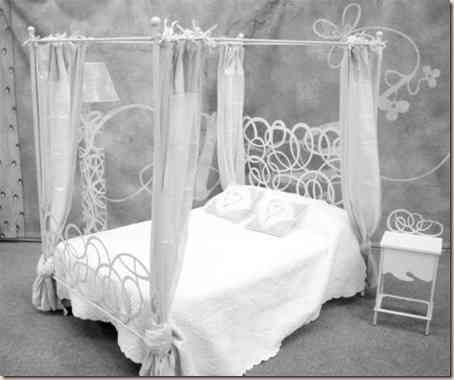 Nowadays, although they fall somewhat disused, canopy beds are taken up by creative geniuses who have them in a remarkable way, rescuing several ethnic tendencies, I have implemented them in modern spaces.
Doseles forged in iron sensual and wavy lines with spiky finishes and canopies in orange tones try represent the Hindu culture in a very representative and extremely careful way, of simple disposition in modern spaces.
The avant-garde on the other hand tries to represent futuristic styles which are highlighted by refined lines, and instead of implementing traditional canopies they have rigid ceilings in plastic polymers, in turn we find other provisions that try to simulate oriental ethnic styles by means of transparent polymers and light tones.
In turn, modern decorators have found a wonderful use for the canopies, turning them into a functional element, so we find the avant-garde exterior furniture imitating conformations more interior than exterior, taking advantage of the practical evolution of the textile industry, resistant to UV rays, water and of course the chemicals that we find when arranging our furniture on the beach of a swimming pool.