Double up, It is a unique bank indicated for those who seek maximum originality in their home. It is a study design The Design Laboratory and it was conceived as a bench, a sofa or an armchair, it is not very clear.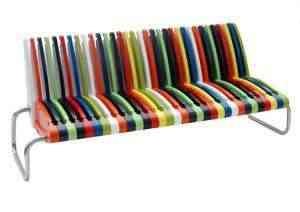 The support goes up and down, but not altogether but individually. That is its particularity, the backrest is composed of individual pieces of polyurethane that therefore can move independently of the rest of the structure. So you can lift only one part so that it is used as an armchair, lift it whole or not lift anything.
The colors used are vibrant, either in a single color or combined, that will depend on the courage of each user, but for the more sober there are also versions in black and white. The legs are made of ultra-resistant chromed metal, as is the structure of the entire bench.
Further information: Sturmundplastic
Vía: Home Space