Inside the decoration of interiors we should have special emphasis on spaces for children which have a different aesthetic sense, and where the ludicity of the place becomes vitally important.
For these spaces for our children, we will have a series of furniture that will respect our aesthetic and playful objectives, becoming an integral solution for decoration and play.
The Bunk beds may be the most characteristic, because thanks to their elevated condition they can incorporate a series of accessories such as slides and sides to climb, always respecting the Necessary safety features and a broad sense of aesthetics.
But Bunk beds are really a totally different universe to consider in interior decoration and especially in children's decoration, this is how we will find a large number of these furniture framed in specific themes, imitating classic shapes of cars or decorated in such a way that they become an ornamental object and central to any decoration.
One of the The most outstanding potential of these furniture, is its adaptability, and is that as our child develops his sense of aesthetics will be present and we will have to change the furniture, or simply transform it, that is why if you are looking for long-term solutions, we recommend that you advise on the nature of modern bunk beds and decorate them with children's motifs and simple play accessories to remove, thus forming a piece that transcends time.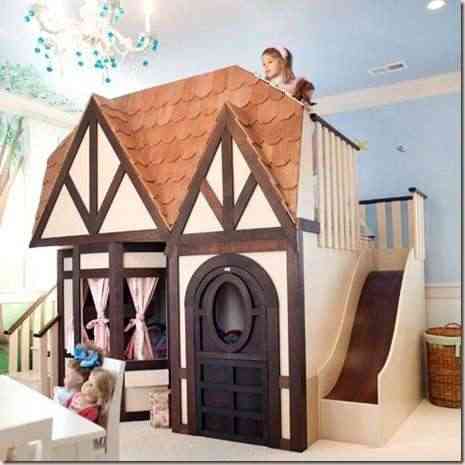 Finally we must emphasize that a incredibly effective solution for this idea that we have just highlighted is the implementation of an external structure, completely independent from our bunk, which hides inside, in this way simply by removing the structure we will have the classic bunk that will adapt to any decoration.