Either because the shortage of space at home rises to the maximum power or because you simply want to give a tribute in the form of a corner for your use and enjoy more personal, the truth is that you may have long time thinking about creating your own toilet in the bedroom. A space dedicated exclusively to make up while you get to enjoy it, it becomes almost for most women a real pleasure to develop this activity and why not say it, also for the eyes, of course. So If you still think that you do not have the space or the means to dedicate one to your most intimate stay, take good note because today, through small big ideas, we want to make you change your mind. We start!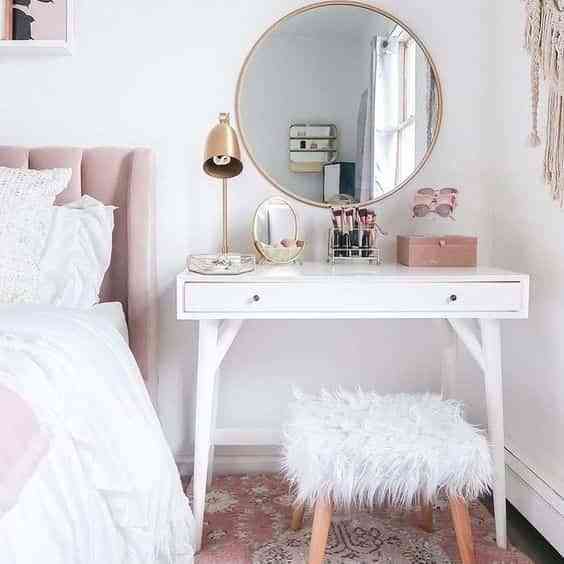 Taking advantage of the space between two elements
Sometimes, the distance between storage modules when carrying out the interior design of the bedroom, leads to dead or unusable spaces that over time we end up perceiving as wasted. So what do you think about the idea of join them through a shelf that gives them visual and functional continuity So create your own dresser in the bedroom?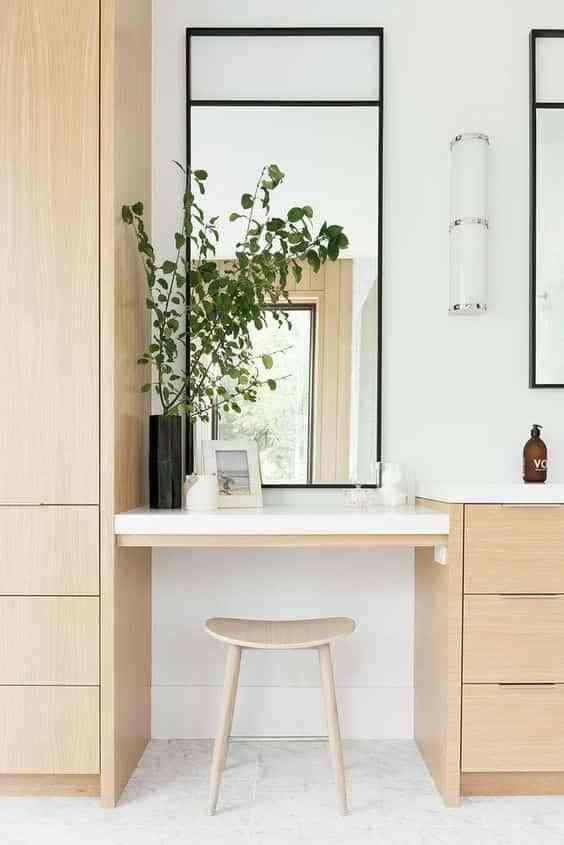 Take advantage of the walls
A great way to provide functionality to the space that surrounds it without the dimensions on the floor of the room are resented, passes by incorporating auxiliary elements suspended from the wall. Shelfs, hanging buckets, hangers, hooks and everything that you find useful around your dresser, you will be welcome to your surroundings.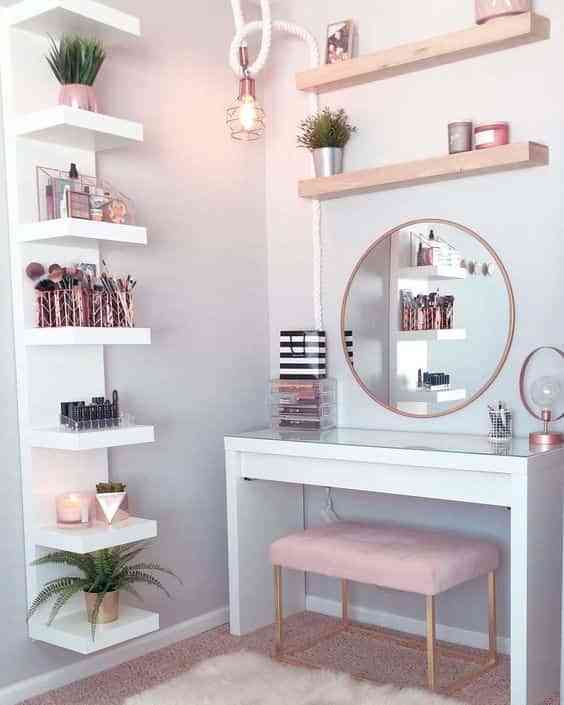 Adapt it to free space
Welcome a dressing table in the room It may be something you do a posteriori. And of course, not thinking about it from the beginning forces you to overcome obstacles and have to adapt its shapes to the space that remains. But who said that we are not willing to take on challenges? As if it were a mural composition, adapting a mirror and support surface to the wall that most seems to lend itself, can become a task as simple as original and fun. So do not deprive yourself of putting this idea into practice!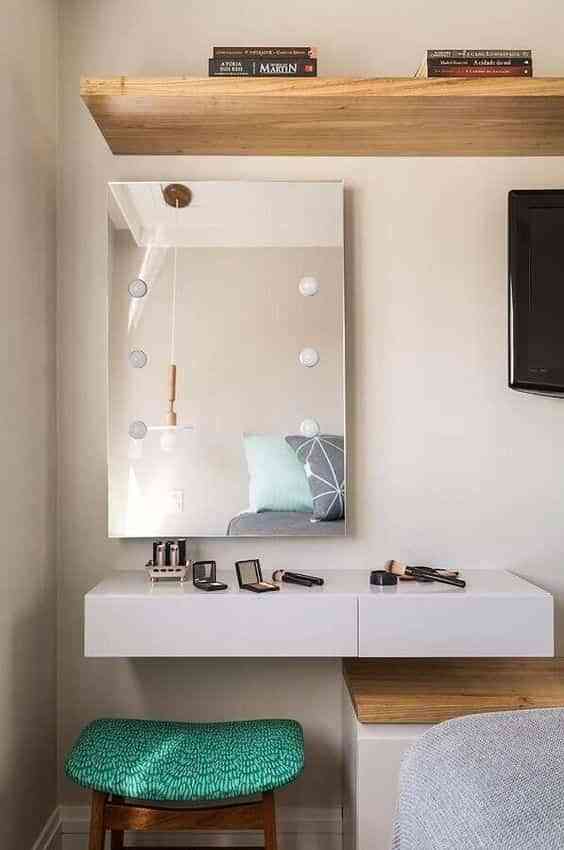 Goodbye to the unused corners
A very different way to incorporate a dresser in the bedroom is to encourage you to take advantage of a corner to install it. Y if you have little space and it is through suspended furniture better than better. See how they have been encouraged to do so to keep everything well stored while taking advantage of the space in the example I show you below.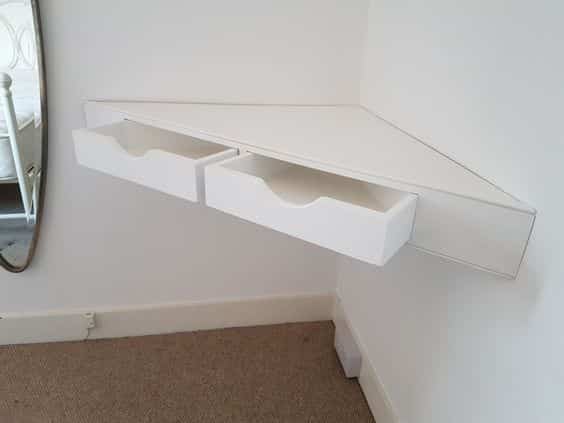 Take advantage of the unevenness in your walls
If you have highlights in your vertical walls, it may be time to take advantage of the situation. And a simple shelf will help you to get it! Choose the color that best suits your decoration, an apparent mirror that provides space and functionality to the space And brand new corner to get pretty good before what you imagine!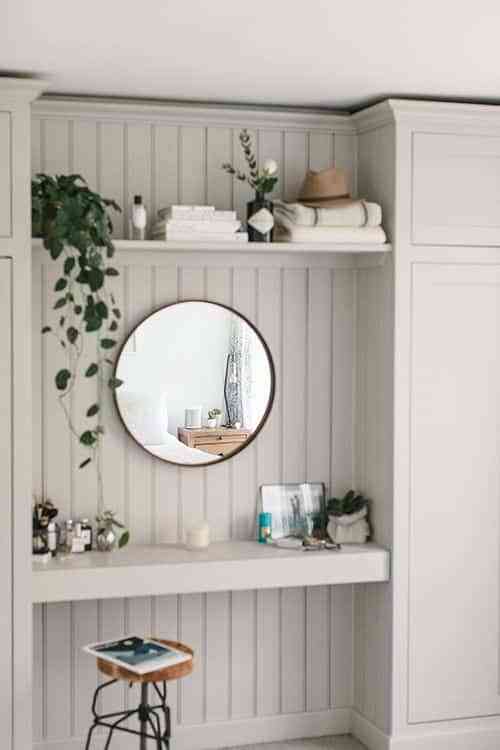 Dressing table in the bedroom: Less can be more
Having spatial limitations in width does not have to discourage you. And is that Growing in height can give you great results as functional as aesthetic when it comes to creating your own dresser in the bedroom. Today there are many auxiliary to help you with the practice. And if you want to solve it for yourself, two or three heights materialized by low-width shelves and placed from the bottom to the bottom will be the key to achieving it.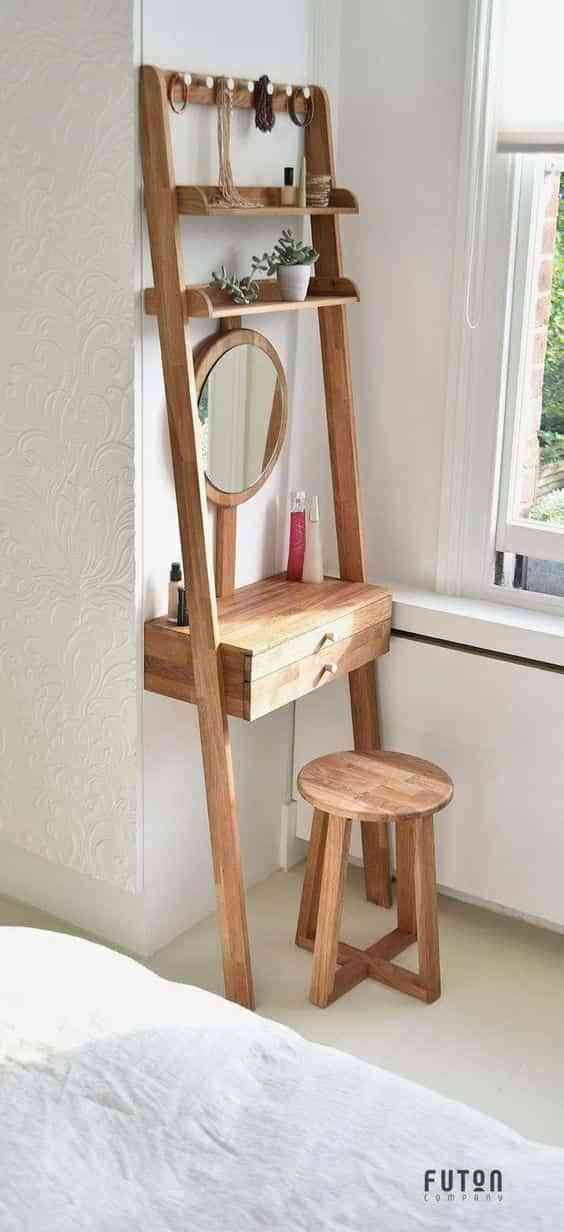 Also in passage areas
If you only have passage areas as free space in the bedroom, there is also a solution for you! And is that the shelves for paintings and even those destined for the placement of spices will help you in a great way to achieve it. You will only need a "take off" seat and a resolved issue.
Shelves with storage
Among the Decoration ideas for your bedroom, this will help you to maintain a much more clear image without giving up for it to count on surfaces the sea of ​​functional. And is that its apparent small storage capacity can give a lot of Especially when we talk about cosmetic products! ;)
Small pieces that give a lot of yes
A small desk, desk or any table, can get to give you many visual and functional joys in your bedroom. A restored antique piece can become the protagonist of your decoration. The incorporation of an unexpected color on any table can give a very original touch to the room. And a table placed "on the air" can generate a space as versatile as attractive that will surprise you very pleasantly.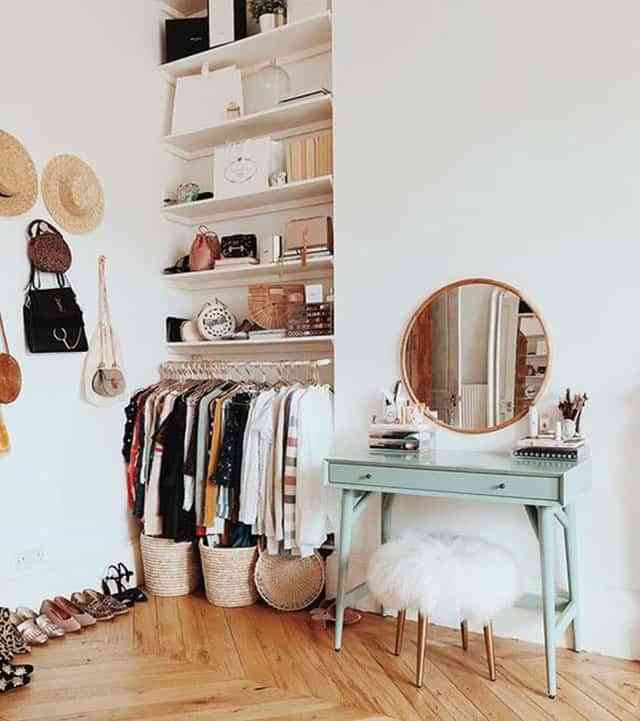 As you see, creating your own dresser in the bedroom can come to admit a lot of different versions and all of them equally valid and beautiful. Bet on the one that best suits your space and taste and do not let it pass another day without enjoying your particular dressing table at home!