The technologies are advancing by leaps and bounds ... It seems that almost nothing surprises us anymore and all these advances slip almost without realizing us in our daily life.
Among the latest developments, perhaps the one that has most attracted our attention is the 3D. Although it seems that it was yesterday when we watched enchanted Avatar in 3D in movie theaters, the 3D has already sneaked into our lives and our houses and not only in the form of television, that too. As far as decoration is concerned, there are already many companies in the sector that are betting on the fashion of 3D to add different attractiveness to spaces, such as 3DWalldecor.
3DWalldecor is a company dedicated to the manufacture of decorative panels in 3D.
The panels offered by 3DWalldecor are available in 4 different models: bars, moonscape, dune and pads.
These are modular made with bamboo pulp.
Among its advantages is that it is a material that can be easily applied or placed in any space, since it is made of bamboo pulp. organic product that respects the environment or that the panels are waterproof and fireproof.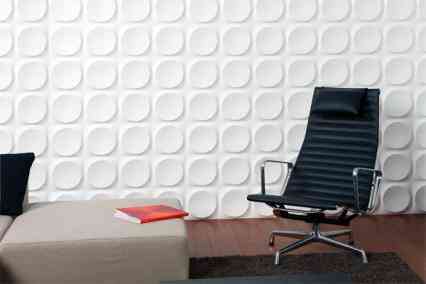 As for its application, they can be applied and used to decorate walls and ceilings. They also offer the possibility of being painted, which will allow you to create a game of light and shadow that will not be indifferent.
Without a doubt, if you want to highlight an environment, with this type of decorative panels you will achieve it.
And you, do you join the fashion of 3D ?, Do you dare to include the 3D in the decoration of your home ?.