Color yellow no It is an easy color when it comes to decoration. In fact, the consequences of its use in decoration can be of all kinds, depending on how it is used. Perhaps this is the reason why sometimes even the decorators do not dare with him.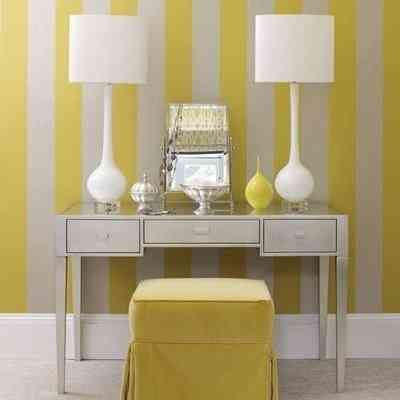 As with the other colors, the range of the yellow is very broad. It is very important, if you decide to apply yellow in the decoration of any space, bet on the range or tone that is most suitable for the space.
Given the yellow color, the question almost always is: In what space of a house can an intense yellow be perfect?. The answer depends on the type of house, the function of each space and the inhabitants of the house. But broadly speaking, bright yellow may be perfect for children's rooms and also to receivers, corridors, playgrounds, areas that serve as access to other rooms, etc.
Keep in mind that yellow is a color awesome only suitable for people with a lot of personality.
When it comes to using yellow, the first thing you have to take into account is the space and utilization that is commonly given to it.
If it is relaxation and rest areas, such as living rooms, bathrooms, bedrooms, etc. It is best to opt for the softer shades of yellow. In this type of spaces, what is sought is rest and relaxation, something that an intense or bright yellow would never allow, since our moods cause restlessness and nervousness. On the contrary, in its softer or pastel versions we will induce relaxation and tranquility.
In kitchens, is a color that can be ideal in any of its versions as long as you do not abuse it. You can paint only one of the yellow walls and combine it with white, for example, to soften its effects a bit or instead of applying it to the wall, betting on furniture or decorative yellow elements. In this way the environment will not be too loaded.