For those who are happy and enthusiastic spirit, betting on the color in the room is a very good option that will brighten the bedroom adapting to your character.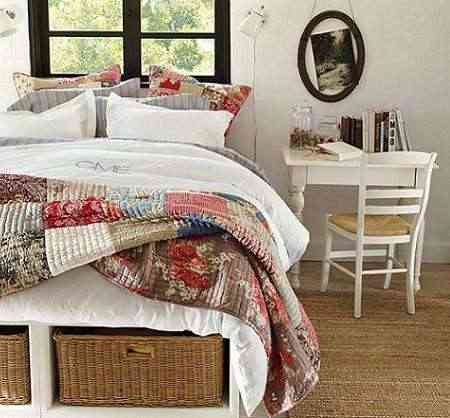 It is true that on some occasion we have commented that in intimate and relaxing rooms such as the bedroom it is advisable not to exceed in what refers to colors, you know that colors greatly influence the mood and if we overload the environment of intense colors we could create an oppressive space.
But it is also true that if we know some ideas of how to decorate with colors, the result can be perfect.
Today we will show you some creative ideas so you can make your bedroom a space with style using color as the protagonist.
In the decoration of rooms or dormitories, on furniture and styles there is nothing written, so that merging styles can become the perfect option. In addition, it will give you a lot of game when mixing and including colors to the decoration, which after all is what we are looking for.
You can mix, for example, furniture or classic details or vintage style with more modern decorative elements.
Painting one or several walls is one of the most common options to provide color in general to the room.
Do not forget that wallpaper is another alternative.
If you decide to bet on painting the walls color or include wallpaper decoration, bear in mind that the colors and patterns are very close to the style you want to give the room.
You can also resort to textiles to add a touch of color.
Colors like red, yellow, orange, turquoise blue, do not go unnoticed easily and if you apply them in small doses (on cushions, some furniture, lamps, accessories ...) they will help you to achieve a space with character and to create visual interest in the decor.

The headboard of your bed is a good element to give a cheerful and colorful wink to the room. One idea that works perfectly is to choose an antique or vintage design headboard and paint it with some vibrant color. It produces an effect of the most attractive and original.