When we focus on the development of a modern space in character of bathrooms, we must spatially emphasize the impact of the provisions and open our horizons in the nature of the representative shapes and colors, and is that the ancient ethereal character of the traditional baths are completely transformed by a whirlwind of color and morphologically attractive dispositions which trap and invite to develop new functions.
La meditation, relaxation and the development of activities in a space as intimate and personal as our bathroom, they are reinforced by decorative arrangements with a high decorative impact, so that the furniture design companies take sides by implementing logical and applicable solutions in these avant-garde and innovative spaces.
Artesi bathroom It is a perfect mixture between conceptual traditionalism and aesthetic revolution, its dispositions are provided with a very traditional nuance where identifying that we are in front of a bathroom is not complex, but provided with a singular ornamental and aesthetic capacity.
Source On the other hand, it shows the innovation in character of bathtubs, from its conformation its built-in character to the height of our pavement gives the idea of a small pool, something not very traditional in the preparation of typical bathrooms, in turn incorporates luminaries inside the same applying in this way a sensory concept to his creations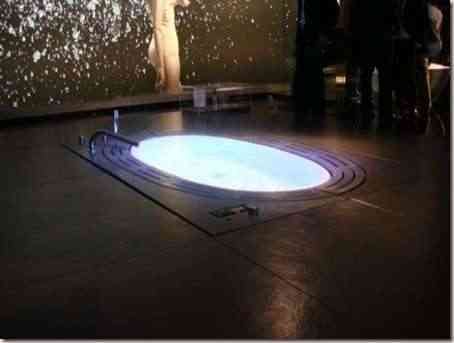 And that type of pieces are extremely representative of the aesthetic concept that is sought to be implemented, Stone One is a clear example, the American company famous for its work on rocks, presents a beautiful line perfectly decorated in mosaics of a high artistic level, returning to the annals of history where the Tubs and bathtubs were a clear reflection of social status and purchasing power.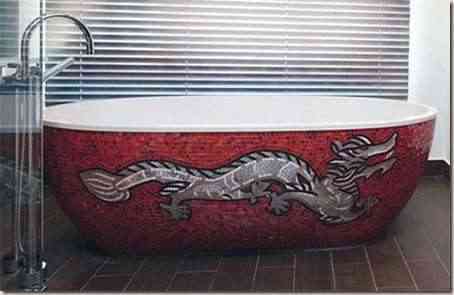 But if what we are looking for is glamor and sensuality nothing better than the artistic conception Dimante, a bathtub completely developed in Swarovski Crystals, of an artistic and commercial value that exceeds any previous concept of luxury when it comes to decorating.