In a mini house and apartments with small meters the elevated bedrooms they are salvation. A proposal for gain vertical space and create rest areas with a decorative stamp very our. In them creativity can be that great ally to give free rein to really ingenious decorations. Like the ones we reveal to you here.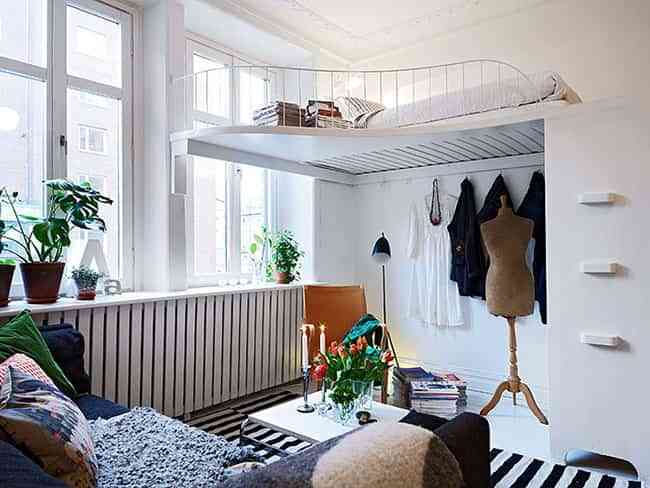 It is clear that thinking of high bedrooms as a decorative solution is out of the ordinary. And not all the adult world may like the idea of ​​having to climb stairs daily to access their bed. The truth is that this type of projects offer more advantages than we imagine. Not only do they guarantee gaining meters, they also propose an interesting spatial configuration for very small homes. The result: environments inform and relieve.
Elevated bedrooms with high ceilings
The raised bedrooms are designed to optimize apartments and studios to the maximum that are not a waste of breadth. However, they are only a good idea if we have high ceilings that make it possible to monetize that height to adapt the bed and some furniture under them. For example modular compositions. When these two circumstances are met, they are able to monetize the vertical surface by gaining meters where we could never have imagined.
Most of the time for crear extra storage areas, mini dining rooms or cozy reading nooks. The best thing of all is that we can carry out these projects in two ways. Either by means of standard proposals that we find in the market, or through one hundred percent custom designs. The latter are undoubtedly the most attractive to optimize every available centimeter and also with a unique final result. And we already know that el Differentiating stamp on decoration is an added value infallible.
Bohemian altitudes very current
These apartments are frequent and studies count on double height spaces type attics. Many times underutilized. Well, in them the high bedrooms fit perfectly as an option for rest where you can enjoy very collected and somewhat bohemian areas. If you also have a high window nearby, much better to enjoy natural light during the day and at night contemplate the sky.
The ideal orientation of the bed It will depend on our sleeping habits. Maybe we love to wake up with the first rays of the sun on our faces. In that case the best will be place it as close as possible to the window, or under it. But without being an obstacle for clarity to invade the rest of the environment. The low beds are a great choice for the elevated bedrooms because they expand the visual field. But if we are more of darkness to fall asleep, maybe its ideal location is at the opposite end of this coquettish space.
Once the loft has been enabled to sleep, we will have gained meters on the lower floor of housing. A great news and almost without realizing it. Now it will be possible condition an open environment with various uses, as a study area and a small American kitchen. When it comes to equipping it, multifunctional furniture they will help to have a decoration one hundred percent versatile. The elevated bedrooms have these surprises.
Tailored to you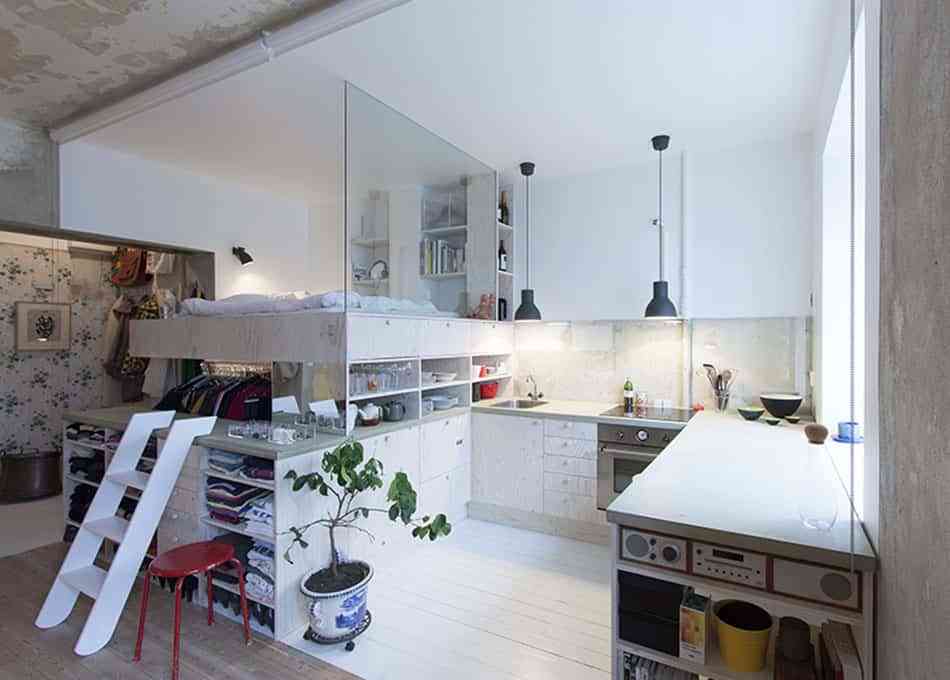 I already said it at the beginning of the post. The elevated bedrooms are a great opportunity to design our project of rest in the heights totally to the measure. And for many people this fact is always an incentive. In addition to a challenge to challenge the lack of space in studios full of charm. One of these designs may consist of create wooden platforms and mezzanines that make it possible to grow in vertical because the roofs allow it. Let's not forget this information.
In particular, these types of modern solutions tend to be simple wooden clad and open containers to the rest of the space. Perfect for housing high, informal bedrooms with just enough furniture. A set of steps covered with the same material is usually the most suitable solution to access them. They do not recharge visually and form a whole when integrated.
The light and white woods are the favorites to shape these volumes because they will enhance the sense of spaciousness. And if it's about generating new storage areas, attention to the steps. They they can become small points to save if we propose removable designs or with lid that allow to leave objects inside.
And finally ... storage areas
With the bedrooms elevated enable new storage areas is a dream come true. Undoubtedly the pending subject of many studies where everything is concentrated in 40 square meters or little more. Under these rest areas are free very useful holes to plan storage solutions of all kinds: modular, stackable or to measure if we do not want to waste a centimeter.
There is no doubt that these structures lend themselves to innovative formulas to store and some call attention to how ingenious they are. In particular, when it comes to keeping books up stairs are a territory full of possibilities. There are models that convert their steps into modular cubes where they can be placed. From the first to the last.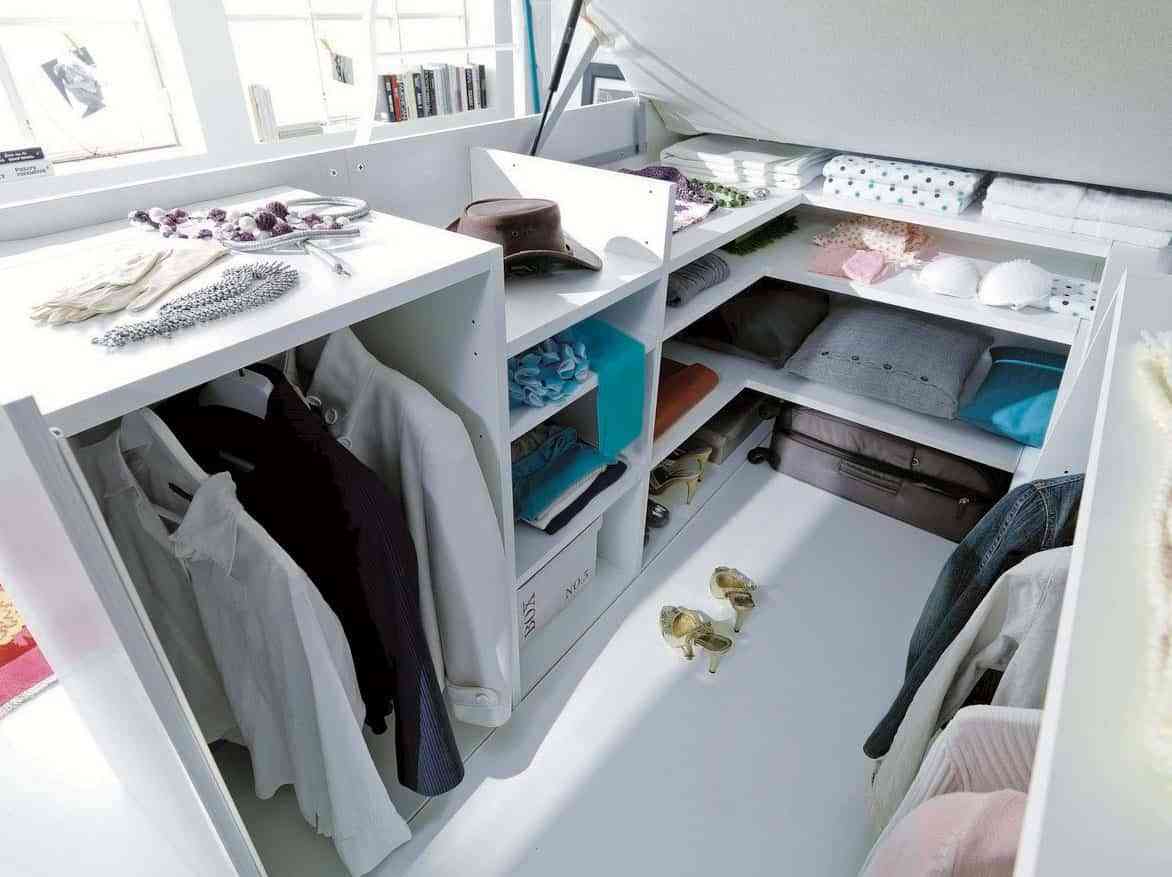 Even the raised bedrooms admit the presence of Modern Closets. The most minimal versions occupy all the space below and are usually mounted with fixed metal bars that go from side to side, very comfortable to hang rows of wooden or velvet hangers. As they are areas that lend themselves to disorder, it is a good idea to hide them. Nothing to leave them in sight if we do not feel like it or need more privacy. Some canvas curtains or a similar fabric and ready. But there are more options, such as walk-in closets that can be accessed inside because they are equipped with folding canapés beds. Surprising, is not it?
Would you put any of these proposals into practice?