At this point, we are all thinking and preparing the Christmas gifts for our family and friends.
Today I propose to give you, this Christmas, decorative and original details. In addition, most of these gifts can be made with your own hands and you will need to invest very little money.
This original idea seems perfect for a gift. If you are good at knitting with the crochet technique, you can use your skill in your favor and give soaps wrapped in lace made in crochet.
The result is an original, different and very elegant detail.
An original clock It is a decorative element capable of changing an entire environment or space with its sole presence.
Today I propose to give you a watch. In addition I will teach you how to do it yourself, so you can customize it to your liking or to the taste of the recipient of the gift and save some money.
To make a watch similar to this you just need:
A circular base (although it can have any shape). This one is made with an old vinyl record, but the base can be of the material you prefer.
Paper for decoupage (with the design that you like)
Glue and varnish for decoupage
Mechanism of a clock (you can find it in any craft store, you can even use any watch that you have at home and do not use)
Making the watch is very simple:
Drill a hole in the base in the center (to place the mechanism and the hands of the clock).
Glue the decoupage paper on the base and let it dry
Varnish the base on which you have placed the paper
Mount the clock mechanism
Easy, right? Well, look what the result is: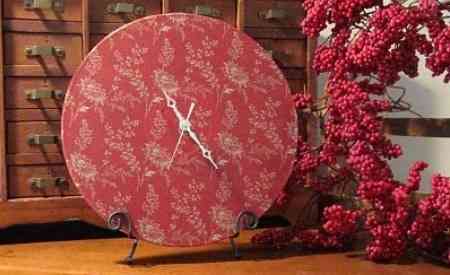 Another very special detail are the Candles.
In this case I propose that you decorate with small fern leaves. It is as simple as sticking them to the candle with transparent glue.