The stairs have a basic function and that function is to unite spaces located at different levels.
Given the lack of space, the best alternative is the spiral staircase.
The spiral staircase is built around a support or vertical pillar that fulfills the function of axis that supports the helix that makes up the succession of rungs.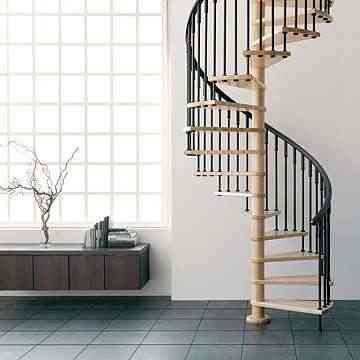 In addition to occupying little space, they have another advantage and this is a type of ladder that can be installed in any direction.
The materials can be practically of any type: wood, aluminum, stainless steel, glass, concrete stone, tec.

For a ladder of this type it is recommended that it does not exceed the 15 or 17 rungs, thus avoiding the feeling of overwhelm when going up or down. If the height requires more steps, it is best to make a kind of "landing", a resting platform, more or less in the middle of the staircase.
The safety in this type of stairs is a very important element to consider.
If possible, choose non-slip materials.
On the other hand, also take into account the handrail, the more bars you have, the greater the security that will contribute to us. If possible, one bar per step would be ideal.
Now that you know a little about the possibilities that a spiral staircase can offer, what are its advantages and what are its drawbacks, what kind of materials can be used when making a spiral staircase, etc.
If you need a ladder of this type for your home and you do not find a prefabricated one for you, you can design one yourself and make it to a manufacturer.