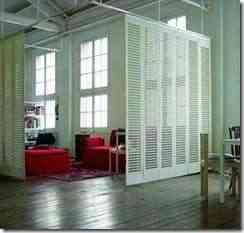 In the civilized world, the first concept of "open spaces" was introduced by the French architect Charlotte Périand, who was the right arm of the well-known master and modernist architect Le Corbusier.
As a woman, Charlotte Periand, (1903-1999), revolutionized the social areas of the departments, projecting the open kitchens on the halls and preventing the "housewives" from feeling excluded from the family activities that happen while they prepare the food .
This was a first essay in terms of interior design, of what would become the model of a new space architecture, more in vogue in recent decades.
At the end of the 80 years, especially in the centers of the great North American cities, intellectuals and artists from different sources, they began to recover large abandoned warehouses, abdicating the comfort of the traditional and compartmentalized apartments, in favor of a much more informal space. , but also more broad and free.
This was the way that was found to keep up with low costs, living in the center of the cities, adapting the large spaces in a way that allowed them to live comfortably.
Today, in the XXI century, what are the pros and cons of living in an "Open Space" concept?
The rhythm of life in modern societies, increasingly conditions the time spent with our family. In this sense, the "open space" can be an opportunity to be closer to the people with whom we live as the absence of architectural barriers can promote family ties.
But common sense imposes limits and forces us to make conscious choices. A couple with adolescent children, for example, will hardly live harmoniously in an Open Space, given the need that children feel at this stage of their lives, to isolate themselves and make their room a personal territory.
Tendeniously an open space is an ideal space for people who live alone or for couples without children and naturally with common tastes.
In addition this is one of the rules of the open spaces, with this architecture of space, its inhabitants have to share similar rhythms of life, tastes, tendencies, etc.
Privacy is a value to be maintained, even in a space with this philosophy. In this case there are several solutions to compartmentalize the open space, from room dividers, screens, sliding panels, among others
In this way we will be creating spaces within the space.