Small inventions (or designs, in this case) are what make our lives more comfortable. For example that is the case of this «Lamp-rests books» or vice versa. I do not know how to define it. It could be a "mini-bookshelf" with light or a lamp that allows us to leave the book with a simple movement when sleep overcomes us, at the same time we turn off the light to sleep peacefully.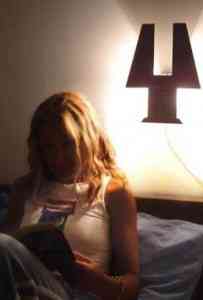 I think it's a great idea but I do not see it necessary to install it right over your head, running the risk of the book falling on you in the middle of the night, a problem if you are reading some fat Petete book like The Pillars of the Earth . You can move a little more towards the side and thus guarantee our safety. In this way we will not need light on the table, this will suffice.
It is made of stainless steel and supports a bulb up to 40 W. Its price is 75 Pounds (110 €), a bit expensive for an object that after all is a lamp with a slit in the center.
Vía: I can not believe…