Of all the possible decorative styles and their possible blends of styles, perhaps the african style be the style least adopted for decoration.
The African style is not only very rare, but it is also definitely a style very richas for decorative elements, colors, etc. A style that evokes: the jungle, the wild animals, the desert and everything you remember Africa, all without losing the elegance.
If you want to colors, the key colors of the African style are those related to everything that they intend to evoke: earth tones from the darkest browns to the lightest beige, oranges, terracottas, great variety of greens and blues. Although in general, the decoration is invaded by earth tones, blues and greens are ideal to accentuate details.
The walls, unlike other styles are full of details and textures. In a room with African decoration, the walls are full of textures and decorative elements. Highlights paintings, decorative elements typical of the African continent and fabrics.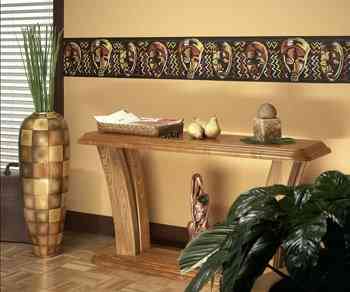 As for the materials most used in decoration, natural materials, like clay, wood and even rocks. Bamboo, ferns and plants, synthetic leather carpets (imitating the skin of animals, since the real skin is not advisable because it breaks the harmony of any environment creating restlessness and on the other hand it is not beneficial for the environment either).
If you intend to decorate your house with this decorative style or a specific space, in your decoration you can not miss:
- Small sculptures with human or animal motifs
- The tribal masks
- Any decorative element typical of the African country (vases, baskets, drums, paintings, etc).