In today's space we talk about the table Extendable of the well-known signature Roche Bobois. A surface indicated, especially, for houses of few square meters.
If you have a small house, an attic or perhaps a small studio in the center, it is convenient to decorate it and furnish it with functional pieces that do not occupy too much space.
For this reason today we present this table whose characteristics make it ideal for small environments and with little space. Being extensible it becomes the ideal table for when guests come .. and while, the surface is well collected without occupying and so not to disturb.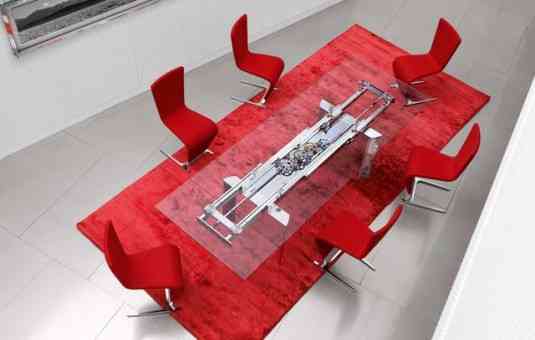 Astrolab, that's what it's called fulfills the function of serving as a surface for day-to-day life without taking up space ... giving style and elegance to your home .. while on certain occasions, when more guests come to our home as family , friends, couples we can have the option to open it and have more space for diners.
Finally we tell you that Astrolab has four legs made of polished aluminum .. all this will go on glass ... which is the perfect material to see what is below.
The curiosity of this table is that, thanks to the glass, we can see the curious mechanism full of gears that allow the mobility of the table. If you wonder how much Astrolab is able to spread, we tell you that it has two extendable pieces of 40 cm each ..
The best of all is that Astrolab is not like the classic tables that you have to pull to open or deploy these two extensions ... this time Astrolab has a remote control with which, anywhere and at any time we can operate it.
With a spectacular design, elegant and sophisticated .. we have this area for small apartments of the French firm Roche Bobois.
Roche Bobois