We love Valentine's crafts! And nothing like coquettish felt hearts to decorate on Valentine's Day, Because hearts are the most representative image of the occasion and we can use them in many ways to create a romantic atmosphere for the date. In addition, felt is one of the most versatile materials when it comes to making crafts for Valentine's Day and any other occasion.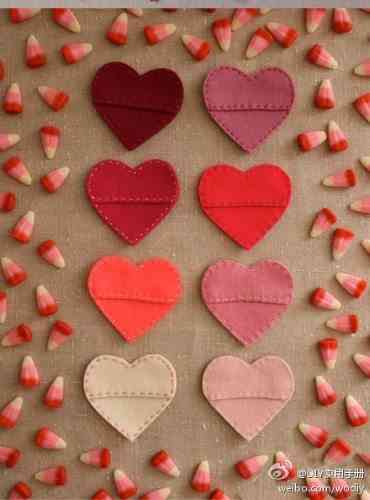 For make felt hearts that you can use to decorate a picture, a card for that special person or to join them and create a garland for the wall, you will need a few sheets of pink and red felt, some thread of said colors, scissors and a needle . They are very easy to make and they are precious because unlike other ways of making hearts these are two pieces joined together.
It is another of many original ideas for Valentine's Day you will find in our space and what you can do with a little time and money for yourself at home. To start making these hearts we will cut the felt in the shape of hearts, depending on the size you want and join with small stitches both pieces as you will see in the tutorial in images that we include later.
When both parts of the felt hearts are joined, a space is left between them and this is something that looks very cute in these beautiful details that you can use as we said before, to decorate an original card of the day of love, make a picture using an old frame and a piece of cardboard lined also with felt for gift or to place on the wall and decorate for Valentine's Day.
To me they seem perfect to add to a cushion and pillow case, you can place them every Valentine and they will always look great. Really put to think about Create a romantic decoration for Valentine's Day, These hearts give a lot of play because they can also decorate if you make them smaller, the edges of your tablecloth and the napkins and so you will have more romantic details in the Valentine's dinner, do not you think? Click on the image to see it in life size.