In decoration we can always find cheaper and affordable alternatives to our possibilities, designs and ideas inspired by other existing and consolidated, but with other materials. In this case we take care of the decoration of the walls, replacing the felt for adhesive vinyl.
We can do it ourselves. We just have to have an idea of ​​what we want to do, buy the felt panels and cut the shapes we want. Then we stick them to the wall, either with double-sided adhesive tape or with any other material that adheres well to the wall.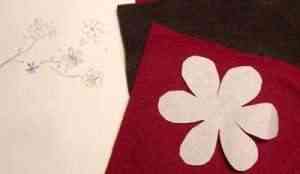 We will obtain a very nice, original and personalized result; and above all, cheap.
Here we leave you a wide gallery of felt flowers, the possibilities are almost endless.