Formal lines and carefree lines, that's the letter of introduction of Flora, the new collection of the Italian brand Fantoni. Its new cupboards, cupboards and office tables follow this trend that differentiates it from the others. The oblique cuts in the front of the cabinets and sideboards interrupt the geometry of these while performing the function of shooter.
Each cut is studied in such a way that they intersect in the front part of the modular cabinets, forming varied decorative drawings. The modularity of the cabinets allows to create monochromatic compositions or combine furniture of different colors, always focusing on red, black and white.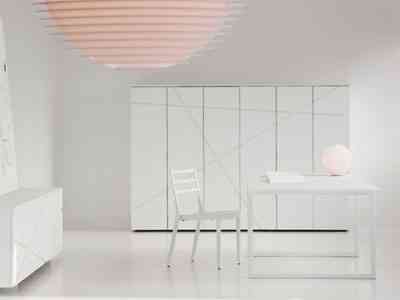 The tables are available in two versions: with frame flush with board or cantilevered board. The drawers are equipped with an anti-tipping device and drawers on telescopic guides. The finishes of the doors of the furniture, the fronts of the drawers, the countertops and the desks of the desks are lacquered and available in two versions: satin or «soft touch», with a velvety surface to the touch.
Vía: decoestyl